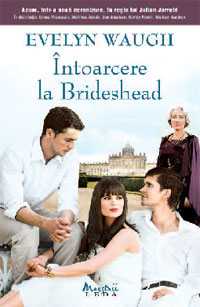 "Chiar daca imaginea despre englezi pe care o dobandisem, citind in adolescenta romanele lui Waugh, s-a dovedit idealizata, placerea oferita de lectura lor a ramas mereu autentica."
Ada Roseti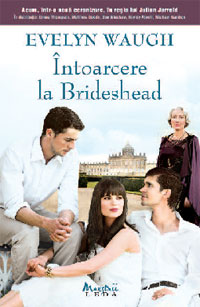 "Chiar daca imaginea despre englezi pe care o dobandisem, citind in adolescenta romanele lui Waugh, s-a dovedit idealizata, placerea oferita de lectura lor a ramas mereu autentica."
Ada Roseti
Roman inclus de revista Time in topul celor mai bune 100 de romane ale tuturor timpurilor.

Romanul pe care Evelyn Waugh insusi il numea un magnum opus poarta, deloc intamplator, subtitlul Amintirile sacre si profane ale capitanului Charles Ryder.
Intoarcere la Brideshead are ceva magic, e o lume in sine, o lume pe care, dupa ce ai terminat de citit si ultima pagina, nu mai vrei sa o parasesti.
Saturday Review
"Brideshead e numele unui castel englezesc, adevarat templu al artei de dragul artei, dar si inviolabil bastion al catolicismului pe pamant anglican, peste care domneste formidabila lady Marchmain. De ea si de Dumnezeul ei incearca sa scape atat lordul Marchmain, care s-a refugiat in mai blanda Italie, cat si doi dintre copiii lor, delicatul Sebastian si rebela Julia, care se refugiaza, el in betie dionisiaca, ea in pasiune adulterina. Cartea ne arata cum acelasi Dumnezeu ii aduce inapoi; este, fara echivoc, cartea unui credincios, desi a unuia bantuit de nostalgia fericirii pagane."
Andrei Gorzo
Evelyn Waugh (1903–1966), pe numele intreg Arthur Evelyn St. John Waugh, s-a nascut in suburbia londoneza Hampstead. A urmat cursurile Universitatii Oxford, insa a fost interesat mai degraba de viata publica decat de studiile propriu-zise, pe care nici nu le-a terminat. A ramas cunoscut indeosebi pentru romanele sale in care a satirizat inalta societate britanica a epocii: Decline and Fall, Vile Bodies, The Loved One, Bomba zilei, Un pumn de tarana, ultimele doua aparute si la Editura Leda.
In 1930, a castigat Hawthornden Prize pentru romanul Edmund Campion, iar in 1952, i s-a decernat prestigiosul James Tait Black Memorial Prize pentru Men at Arms, primul roman din trilogia Sword of Honour.
✖
Mulțumim pentru că vrei să fim prieteni!