Medierea transformativă și rezolvarea amiabilă a conflictelor la locul de muncă

www.canva.com
Voi la ce vă gândiți când auziți cuvintele "conflict la locul de muncă"? Vi s-a întâmplat să fiți parte într-unul? Mai știți ce ați simțit? Furie? Frustrare? Resentimente? Dorința de a pleca?
Poate ați experimentat tensiuni și chiar certuri între șef și subaltern, sau o concurență care a limitat serios gradul de colaborare dintre două departamente ale aceleiași companii, sau un anumit tip de abuz/ bullying, care poate fi verbal sau emoțional. Expunerea la bârfă constantă este și ea o stare de conflict care aşteaptă să fie manifestată atunci când persoana bârfită află ce se întâmplă/ vorbește în lipsa ei.
Conflictele la serviciu pot, adeseori, să ducă la concedieri și demisii care ar fi putut fi evitate, lăsând ca relația angajat-angajator să continue. Medierea conflictelor la locul de muncă are multiple roluri, iar dintre acestea, două sunt mai importante:
Rezolvarea amiabilă a conflictului și păstrarea relației angajat-angajator;
Îmbunătățirea relației dintre părțile aflate în conflict, chiar dacă, înainte de mediere, acest lucru poate părea dificil.
Eu practic un tip de mediere numit "Transformative Mediation", o metodă creată de The Institute for the Study of Conflict Transformation din Statele Unite ale Americii.
Acest tip de mediere pune pe primul plan păstrarea și chiar îmbunătățirea relației dintre părțile aflate în conflict. Dacă una dintre cele două părți consideră că nu dorește deloc păstrarea relației, atunci medierea, sub orice formă a ei, nu mai este posibilă, și conflictul respectiv se stinge temporar printr-o negociere care va înclina balanța în favoarea uneia dintre părți.
Cum începe o mediere?
Există câteva tehnici pe care mediatorul le poate folosi în procesul de pre-mediere pentru a pregăti cel mai bine părțile aflate în conflict. Luarea unor decizii importante nu trebuie să se întâmple într-un context de dezechilibru emoțional. Aceste tehnici de comunicare folosite în medierea transformativă ajută părțile să-și dezvolte voința și abilităţile de a face parte dintr-o mediere.
Mediatorul transformativ aplică o serie de tehnici care îi ajută pe clienți să coboare barierele de comunicare și să-și dezvolte motivația de a soluționa amiabil conflictul, păstrând relația.
Pre-medierea transformativă cu scop motivațional, de exemplu, aduce cu sine patru urmări:
Încurajarea empatiei
Părțile pot să înțeleagă puncte de vedere diferite
Părțile pot trece peste propria lor rezistență la schimbare
Fiecare parte, individual, poate să ajungă la o comunicare mai eficientă
Dacă ne întoarcem în cadrul conflictelor de muncă, tot mediatorul transformativ poate trece părțile printr-un exercițiu de luare a deciziilor care presupune că fiecare dintre cele două părți să își imagineze două scenarii posibile, diferite ca și efecte în timp:
cum va arăta viața lor dacă nu ajung la o înțelegere, luând în considerare toate părțile afectate, chiar și tangențial;
cum va arăta viitorul lor după ce vor fi ajuns la o înțelegere.
Află mai multe detalii în cursul susţinut de mine Metode de mediere a conflictelor.
✖
Mulțumim pentru că vrei să fim prieteni!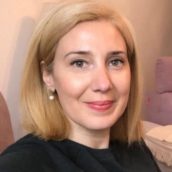 Dana Tudose-Tianu
Dana Tudose-Tianu este mediator consilier vocațional și lector la Fundația Calea Victoriei.