Agresivitatea online: ce ne facem?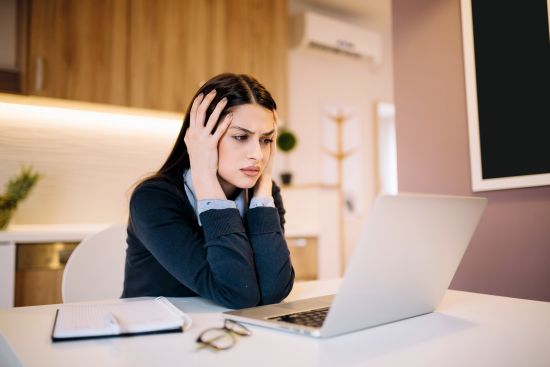 Cine nu s-a angajat măcar o dată în viață într-o polemică pe Facebook, devenită brusc ceartă în toată regula? Acest gen de comportament foarte agresiv, cauzat de faptul că oamenii nu se văd față în față, este tot mai frecvent. Cum să te descurci cu agresivitatea online.
"Nu mai suport! Dacă aș putea, mi-aș suspenda și mâine contul de Facebook. Dacă expun acolo o idee, sigur se găsește cineva care să nu priceapă ce spun și să mă atace.
Chiar dacă răspund politicos și nu vreau nicidecum să îl blochez, el, acel neavenit, va insista cu ideea lui, indiferent câtă răbdare aș avea eu să îi explic. Uneori, îi ignor, alteori, mă implic în discuție. De cele mai multe ori, regret.
Ce o fi acest Facebook care ne ridică tuturor adrenalina la cote înalte? Și de ce nu pot să stau fără el? Am încercat să stau fără aplicația de telefon și nu am rezistat mai mult de două săptămâni, pentru că pe Facebook comunicau colegele mele și aveam nevoie să știu ce se scrie în grup.
Dar iată că am reintrat în acest vârtej care mă îmbolnăvește. Sunt dependentă de ceva care îmi face rău și lumea de pe Facebook, chiar dacă o mai triez eu, se comportă cu o mare agresivitate."
Sunt cuvintele unei profesoare de franceză care exprimă tensiunile noastre, ale tuturor. Agresivitatea pe rețelele sociale este la cote mari.
Ea se intensifică atunci când, în lume, lucrurile iau o turnură proastă, pentru că mereu oamenii se vor polariza în opinii, în funcție de informația primită. Iar Facebook, prin excelență, polarizează.
"Agresivitatea online… is here to stay", cum spunea cineva. Este o utopie să ne imaginăm că o putem diminua cumva. Rețelele sociale sunt construite pe acest mecanism care favorizează taberele. Iar taberele asta fac: se luptă verbal între ele, se insultă.
Danielle Keats Citron, autoarea cărții Hate Crimes in Cyberspace, spune că 40% din populația care are un cont online va fi supusă agresiunii cibernetice la un moment dat.
"Când postezi ceva care dăunează reputației tale, asta devine imediat vizibil și ușor de găsit. Și nu poți șterge, pentru că există print screen", mai spune ea.
Artista pop Iggy Azalea spunea că Internetul este cea mai urâtă reflectare a umanității de azi. Se pare că, în anumite condiții, noi, toți, putem deveni ceea ce detestăm mai tare: niște troli.
Trolls just wanna have fun. Acesta este titlul unui articol apărut la un moment dat pe un site american, articol care povestește concluziile unui studiu făcut pe câteva mii de oameni.
Un procent semnificativ dintre cei studiați spuneau că au postat măcar o dată în viață ceva răutăcios despre altcineva și că asta le-a făcut plăcere. Trolii aceștia au scoruri mari la comportamente legate de sadism.
Cu alte cuvinte, sunt personalități antisociale și a face rău reprezintă pentru ei un scop în sine. "Internetul este, în parte, de vină", spune, în New York Times, Ezra Waldman, profesor la Innovation Center for Law and Technology de la New York Law School.
"Ceea ce face Internetul extraordinar ca resursă – și anume, viteza, costul redus, pseudoanonimatul – este și sursa răului pe care îl poate genera."  Anonimatul favorizează agresivitatea, asta se știe.
Dar și dacă ies la iveală și își declină identitatea, unii dintre cei mai răi troli parcă se comportă și mai și. Cu și mai multă răutate, apărându-și pozițiile absurde, fiind de două ori mai sadici și constatând, culmea!, că asta le procură respectul unor comunități online care admiră această agresivitate dusă la extrem.
Să te retragi cu totul?
Unii recurg la soluția retragerii totale din mediul online. Își suspendă contul de Facebook, păstrează un cont sobru de LinkedIn, poate. De Instagram, ce să mai zicem?
Dar un studiu din 2016 arată că 40% dintre cei care nu aveau o prezență constantă online, aveau șanse mult mai mici să fie chemați la un interviu de angajare, de pildă.
Pentru că angajatorul vrea să vadă ce faci, ce pasiuni ai, cum gândești, iar această informație și-o ia de pe rețelele sociale sau de pe blogul personal al candidatului. Deci, retragerea cu totul din mediul online nu este o soluție.
Oamenii se agresează, cu o creativitate extraordinară și demnă de o cauză mai bună, pentru orice: pentru greșeli de exprimare, pentru felul cum arată X sau Y, pentru poze din trecut, pentru urâțenia copiilor (da, sunt site-uri și feed-uri de Reddit pentru așa ceva), pentru vederile politice, pentru vederile legate de sexualitate, pentru preferințele culinare sau pentru că ei cred că Pământul este rotund.
Internetul ne-a dat tuturor un glas, dar acest glas poate fi și bun și cald, însă, de cele mai multe ori, este ignorant și rău.
Agresivitate online? E nevoie de educație digitală!
Cei mai vulnerabili în această nouă eră a extremei violențe digitale sunt copiii și adolescenții. Fără să fie educați cu privire la consecințele zburdatului liber pe Internet, copiii pot astăzi să fotografieze orice și să posteze, iar pozele lor pot fi ținta agresiunii concertate.
Este cazul unui băiețel care și-a fotografiat sora (un caz din Statele Unite), a pus poza ei pe Facebook, iar contul său s-a umplu de mesaje de dispreț și de ură cu privire la ea (sora lui avea un handicap).
Adolescenții, pe de altă parte, cu creierul încărcat de hormoni, tind să facă ceea ce se numește sexting – să își împărtășească poze sexi pe conturile lor, lucru cu consecințe pe termen lung.
De la reputația distrusă în câteva minute de o poză indecentă, până la revenge porn și chiar la sinuciderea victimei, toate acestea sunt din ce în ce mai frecvente peste tot în lume.
Ideea ar fi să educăm, de foarte devreme, copiii cu privire la ceea ce pot să posteze online, pentru a nu-i lăsa să fie victime din inocență și să dea "muniție" agresorilor.
O doză consistentă de discreție trebuie să devină parte din obișnuințele noastre, ale tuturor. O maximă atenție cu privire la ceea ce apare pe conturile noastre de rețele sociale.
Poate că nu ar strica să ne consultăm cu niște amici cinstiți despre ceea ce urmează să postăm: "Este prea decoltat? Prea agresiv? Poate fi interpretat nu știu cum?"
Toate acestea trebuie să devină întrebări obișnuite înainte de a pune ceva pe Facebook, pentru că mesajul poate să fie distorsionat și să ne trezim că suntem vinovați de ce nu voiam să spunem.
"Comportamentul tău online ar trebui să fie reflectarea a ceea ce ești offline", spune Melissa Schorr, una dintre autoarele cărții Shame Nation: The Global Epidemic of Global Hate… "Dar câți dintre noi trăiesc cu această idee în cap?"
Cu alte cuvinte, dacă pe stradă nu îți dezvelești anumite părți ale corpului, nu o face nici dacă cineva te-a pozat sumar îmbrăcată, chiar dacă poza este artistică și mori de poftă să fii admirată. Nu uita că nu arta este ceea ce văd trolii din online.
Câteva sfaturi de bună purtare
Autoarele cărții anterior menționate spun că nu este bine să îți ventilezi pe Facebook frustrarea de a lucra pentru o anumită companie.
Este sursa multor concedieri și a multor șanse tăiate de a te angaja în altă parte, pentru că noii angajatori vor afla lesne de ce ai plecat de la vechiul loc de muncă.
Și, în general, nu posta orice emoție temporară pe pagina ta de Facebook. Chiar dacă ești nervos (pe ceva din politică), entuziasmat (că ți-ai luat o mașină nouă) sau plictisit (la muncă), nu uita că emoțiile nu sunt bune premise pentru decizii.
Ele trebuie mereu moderate de rațiune. Toate acestea pot fi distorsionate de către cei care te citesc. Gândește-te bine la ceea ce ai de spus, este bine să postezi doar când ai realmente ceva de spus, nu de ventilat o stare.
Nu în ultimul rând, cultivă o imagine pozitivă despre tine. Postează chestii despre voluntariat, despre performanțe în muncă, nu probleme intime.
Folosește setările de confidențialitate pentru ceea ce vrei să fie personal și să afle prietenii tăi. Educația cu privire la Internet ar trebui să intre în manualele tuturor copiilor, dar și adulții ar trebui să devină mai conștienți de ceea ce scriu, într-un moment oarecare, pe Facebook…
Foto: Shutterstock
✖
Mulțumim pentru că vrei să fim prieteni!