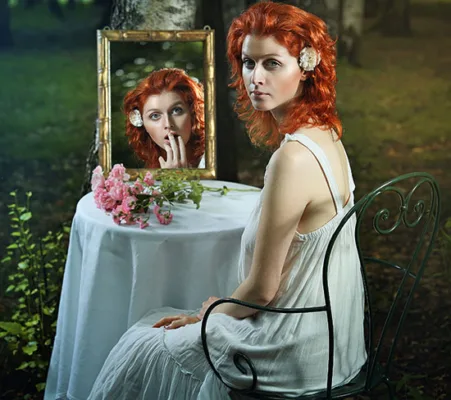 Desi vorbim des despre ea, iubirea de sine este uneori incorect asociata cu egoismul. Chiar si in cazul propriei persoane, ne punem deseori la indoiala motivatia si renuntam la anumite lucruri fie pentru a nu fi catalogati egoisti, fie pentru a nu fi ridicoli.
Suntem invatati sa schimbam lucrurile pe care le putem schimba la noi insine, sa acceptam ceea ce nu putem schimba si sa stim diferenta dintre cele doua.
Iubirea de sine nu inseamna sa fii orb in fata defectelor tale, dar sa te accepti cu ele si sa te apreciezi pentru calitatile tale, bucurandu-te de tine ca ansamblu al lor.
Existenta celor trei componente in viata cuiva nu este dependenta de succesul persoanei, de popularitate sau de cariera, iubirea de sine inseamna sa te placi pentru ceea ce esti si nu prin comparatie cu altii ori cu suma reusitelor.
Atentia la sine!
Psihoterapeutul Roxana Agafitei spune ca "a te iubi pe tine inseamna a fi centrat pe tine, asa cum esti tu, cu calitatile tale, cu trasaturile personale care te definesc si care iti plac, dar, in egala masura, si cu micile tale imperfectiuni, trasaturile care iti plac mai putin.
Inseamna a fi atent la tine, la nevoile, preferintele, limitele si dorintele tale. Este tocmai sentimentul pe care il avem atunci cand ne indragostim, cu invitatia ca toata acea energie pozitiva sa fie orientata spre propria persoana.
Nu este vorba despre narcisism, nici despre egoism, ci despre o foarte buna relatie cu propria persoana, o relatie matura, emotional sanatoasa, de incredere, in cunostinta de cauza, altfel spus. Iar acest lucru ar face toata diferenta in toate celelalte tipuri de relatii in care o astfel de persoana ar putea fi implicata".
Respectul de sine vine odata cu acceptarea propriilor placeri, chiar daca nu excelam intr-un anumit domeniu. Placerea de a gati, spre exemplu, poate fi exploatata si produce satisfactie prin simplul act, chiar si atunci cand rezultatul nu este spectaculos sau, mai rau, comestibil.
Esecul nu are influenta negativa de durata, iar respectul de sine este acceptarea acestui hobby si a gasirii aceleiasi placeri in a gati. Se spune ca, cu cat nevoia noastra de a fi complimentati este mai mica, cu atat mai putin vulnerabili suntem la evaluari sau critici.
In timp ce stima de sine este prinsa in mrejele evaluarilor, respectul de sine intervine ca un scut impotriva sentimentelor de vina, de rusine, de regret sau impotriva stresului.
Care ne sunt piedicile?
Cum imaginea de sine ne-o formam incepand din copilarie, evident ca anumite trasaturi ne sunt influentate de cei care ne educa.
Fie din dorinta de a ne face prea mult bine sau din neglijenta, din imitarea comportamentelor vazute la ei, sau din neintelegerea propriilor nevoi de catre adulti, sentimentul iubirii si acceptarii de sine poate fi modelat pozitiv sau negativ.
Evident, un copil criticat, pedepsit, caruia nu i se recunosc meritele, nu i se apreciaza calitatile sau nu i se ofera confort emotional, va avea o stima de sine stirbita.
Pe de alta parte, permiterea exprimarii libere, a alegerilor, refuzurilor, incurajarile, iertarea, atunci cand greseste, si responsabilizarea sunt atuuri in construirea acestui aspect. Mai tarziu, evident, timpul si experientele de viata vor modela contururile, dar pe un schelet deja format.
"In functie de mesajele primite, inca din cele mai timpurii momente ale vietii noastre, ne formam o imagine de sine si invatam care sunt acele comportamente, atitudini, declaratii, pozitii care ne asigura supravietuirea, in primul rand, si ne implinesc nevoile de baza, inclusiv cele emotionale.
Inca de timpuriu, invatam si lectii despre viata, precum cine este langa noi si in ce conditii. Ma refer aici la relatia de atasament care se formeaza cu persoanele semnificative, in principal cu mama, aceasta relatie fiind una dintre structurile cele mai stabile cu care plecam in calatoria vietii.
Si continuam sa functionam in baza acestor conditionari, in baza acestor lectii invatate, avand de multe ori unele dintre cele mai minunate explicatii si justificari pentru alegererile si deciziile personale.
Identificarea propriilor asteptari, nevoi, dorinte, independent de ce ne-a fost transmis, este pasul important pe care trebuie sa il facem", spune Roxana Agafitei.
Susceptibilitatea la mediul inconjurator ne face mai vulnerabili, mai predispusi la asumari de critici negative, mai sensibili la criticul interior pe care il lasam sa ne cenzureze. Alegerile pe care le facem depind, si ele, de parerea pe care noi o avem despre ceea ce meritam si ce nu.
Echilibrul vine din permisivitate, din abordarea propriei persoane ca pe a celui mai bun prieten, cu care suntem indulgent, pe care il ascultam, il iertam si intelegem.
Blocajele vin din teama pe care o avem de a ne lasa liberi sa simtim si sa actionam, sa gresim, sa fim refuzati sau sa avem esecuri. Frica ne blocheaza atat descoperirea de sine, cat si dezvoltarea.
"Cand iubirea de sine lipseste, aproape ca as spu­ne ca lipseste din autenticitatea unei per­soa­ne", spune Roxana Agafitei.
"Iubirea de sine este ceea ce imi permite sa ma uit la mine, la toate su­ferintele vietii mele, la toate nereusitele, spaimele, limitele, slabiciunile si neputintele mele si, cu toate acestea, sa am compasiunea si acceptarea care ma ajuta sa consider ca sunt o persoana care merita tot binele din lume.
Abia astfel o persoana e prezenta in mod autentic si constient in viata ei si in relatiile cu ceilalti. Cand iubirea de sine lipseste, relatiile cu partenerii de viata, copiii, cu viata profesionala, cu prietenii sunt compromise asemeni relatiei cu sine.
E prezenta mai multa autocritica si, implicit, critica la adresa celorlalti. Este o nevoie neimplinita, in sens larg, si incercari variate de a rezolva aceasta neimplinire prin atribuirea prea deseori a cuvantului «trebuie».
Iar in spatele lui ajung sa se adune teama, neincrederea, vinovatia, rusinea sau chiar agresivitatea latenta sau manifesta, asupra propriei persoane sau asupra altora."
Cum ne autoeducam
Cunoasterea si acceptarea de sine vin in timp, atunci cand ne lipsesc; vin cu rabdare, efort, dar si constanta in demersuri.
Pentru a fi iubit de ceilalti, trebuie sa te iubesti tu, in primul rand, iar in jur vei transmite cel mai des propria parere despre tine. Nu poti cere de la altii ceea ce tu iti refuzi. Asa cum, nu poti oferi iubire daca nu ai invatat sa te iubesti pe tine.
Iar echilibrul tau general sta in aceasta capacitate de a te iubi si a te respecta, pe care ti-o poti educa. Vorba Samanthei din Sex and the City – I love you but I love me more.
Iar expresia inseamna sa fii intotdeauna propriul tau reper, sa iti inveti si intelegi atat nevoile, cat si limitele si sa stii sa faci compromisuri sanatoase.
Roxana Agafitei este psiholog / psihoterapeut 0723.658.431 [email protected], www.psihotrauma.ro
✖
Mulțumim pentru că vrei să fim prieteni!