Dan Ariely: Ganduri irationale care ne preocupa inutil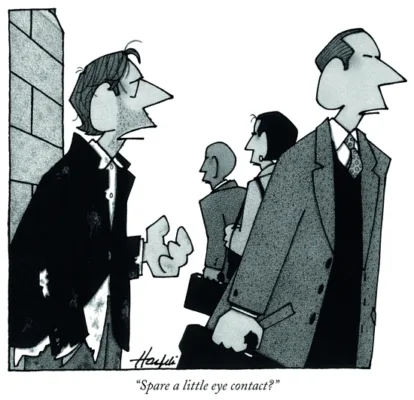 Al dumneavoastra, irational este o carte savuroasa scrisa de Dan Ariely. Iata cateva fragmente ilustrative despre ce mai ocupă mintile oamenilor si cum se pot aborda lucrurile.
Despre pomana data saracilor
"Draga Dan,
Recent, am fost abordat de un cersetor, care mi-a cerut 75 de centi. Ma grabeam sa prind trenul, asa ca i-am dat tot maruntisul din buzunar si m-am grabit sa-mi vad de drum.
Doar mai tarziu am inceput sa ma intreb de ce omul a ales suma de 75 de centi. Crezi ca cererea celor 75 de centi ar putea fi o suma "testata pe piata", una care aduce un nivel mai inalt de pomeni decat daca ar fi cerut de-a dreptul un dolar sau mai mult?"
D. A.: Nu sunt sigur daca cersetorul a inventat aceasta strategie in urma unor cercetari solide ori s-a bazat numai pe intuitie (daca s-a bazat pe cercetari, atunci merita aprecieri mai elogioase decat majoritatea companiilor din Fortune 500), dar cu siguranta este o strategie interesanta.
Un posibil motiv pentru care aceasta abordare ar putea sa dea rezultate, este ca, prin aceasta solicitare iesita din comun, cersetorul ar putea incerca sa se distinga de competitori, facandu-i pe trecatori sa se opreasca pret de cateva secunde, sa se uite la milog, sa gandeasca diferit despre el si, poate, sa-i dea ceva bani.
O alta posibilitate este ca, prin solicitarea unei sume exacte, cersetorul a fost capabil sa modifice inferentele pe care le facem in legatura cu el si cu situatia lui.
Aici, ideea este ca minutiozitatea cu care ne exprimam, comunica o informatie importanta.
De exemplu, cand cineva ne spune sa ne intalnim la 8:03, ajungem la o concluzie diferita despre cat e de serios individul respectiv in ceea ce priveste punctualitatea, in comparatie cu unul care ne spune sa ne vedem pe la 8 sau 8 si ceva.
La fel, o cerere de exact 75 de centi poate sa atraga dupa sine un set de inferente despre cat de serioasa este nevoia de bani a individului.
Aceasta cerere foarte concreta ne poate face sa ne gandim ca se intemeiaza pe un anumit motiv – cum ar fi, sa zicem, costul unui bilet de autobuz – si este mai probabil sa ajutam atunci cand nevoia este specifica.
Ai putea sa obiectezi ca acelasi principiu s-ar aplica daca ar fi cerut 1,25 dolari, dar in acest caz marimea cererii ar putea sa-i alunge pe unii oameni.
In plus, cand cere 75 de centi si oamenii nu au suma exacta in maruntis, sunt sanse mari sa-i dea 1 dolar, fara sa mai astepte restul.
Insa daca ar cere 1,25 dolari, a-i da doi dolari poate fi prea mult. Odata ce-am spus toate astea, trebuie sa subliniez ca speculatiile mele despre specificitatea cererii si despre efectul de rotunjire a sumei nu sunt decat speculatii si lucrul potrivit de facut este sa efectuam niste experimente.
Asadar, daca doresti sa te oferi voluntar si sa cersesti cateva zile, atunci vom putea sa vedem cum reactioneaza lumea cand ceri diferite sume, cand le oferi oamenilor diferite justificari ale sumei solicitate si cand le usurezi primirea restului.
Culegand niste date reale, ar trebui sa fim in stare sa ajungem la fundul acestei strategii. Dincolo de faptul ca ne-ar aduce o mai buna intelegere a strategiilor de cersit, astfel de experimente ne-ar putea fi de folos ca sa pricepem cum sa le cerem oamenilor ajutor in viata reala.
Ne-ar putea ajuta sa aflam cum sa-i facem pe oameni sa se opreasca si sa ne asculte, cum sa influentam inferentele pe care le fac despre noi si despre cererile noastre si, in ultima instanta, ne-ar putea ajuta sa primim exact sprijinul de care avem nevoie.
Acum, ca vezi cat de important este acest lucru, da-mi de stire cand esti gata sa incepi experimentele.
Despre formulele de agatat gagici si complimente
"Draga Dan,
Am o casnicie fericita si eu insami n-am fost prea des acostata prin baruri. Dar ma intreb daca acele formule ieftine de agatat chiar merg in realitate.
"Daca ti-as spune ca ai un corp superb, te-ai lipi de mine?" si asa mai departe. Nu-mi pot imagina ca cineva ar lua de buna o asemenea lingusire de o goliciune transparenta, dar aceste formule sunt atat de frecvente, incat trebuie sa aiba un efect. Poti sa ma lamuresti?"
D. A.: Nu sunt un expert in materie, dar presupun ca acest gen de formule de agatat functioneaza mult mai bine decat te-ai putea astepta.
Exista un studiu foarte interesant, care arata ca ne place sa primim complimente (nu-i o mare surpriza), ca avem o atitudine mai favorabila fata de cei care ne fac complimente (intrucatva mai interesant) si ca ne sunt simpatici acei oameni chiar si atunci cand stim ca ne fac niste complimente nesincere (ceea ce reprezinta descoperirea cea mai surprinzatoare si cea mai interesanta).
Dincolo de intelegerea perspicace a formulelor de agatat, implicatiile acestor rezultate ar trebui sa ne determine sa regandim complimentele pe un plan mai general.
In fond, complimentele nu costa nimic, ele il binedispun pe cel care le adreseaza, fac ca persoana care le primeste sa se simta speciala si intaresc legatura dintre cei doi.
Asadar, de ce sa nu facem mai multe complimente? Gandindu-te la acest lucru, in urmatoarele cateva saptamani incearca niste formule de agatat si niste complimente cu sotul tau si da-mi de stire ce rezultate au avut pentru tine, pentru el si pentru relatia voastra.
Despre amici cu drepturi speciale
"Draga Dan,
Eu si prietenul meu traim de catva timp impreuna si lumea ne intreaba daca avem de gand sa ne casatorim. Ne intelegem de minune si ne iubim foarte mult, dar eu nu vad ce sens are casatoria.
De ce n-am trai impreuna intr-un parteneriat civil, fericiti ca lucrurile sunt asa cum sunt?! In afara de cheltuieli, mai are vreo noima acest ritual complicat?"
D. A.: Nu am cercetat aceasta tema, insa da-mi voie sa-ti spun o istorie care te-ar putea ajuta sa reflectezi asupra intrebarii tale.
Pe cand aveam vreo nouasprezece ani, am fost mutat de la Sectia de arsi (unde, initial, am fost spitalizat la izolare), intr-un centru de reabilitare generala.
Acolo am cunoscut pacienti cu tot felul de leziuni, de la membre amputate si paralizie, pana la capete sparte.
Printre pacienti se numara si David, care servise in armata ca expert in explozibili si fusese grav ranit in timp ce dezamorsa o mina antipersonal.
Si-a pierdut o mana si un ochi, avand, de asemenea, rani la picioare si niste cicatrice. Cand Rachel, prietena lui de cateva luni, s-a despartit de el, toti pacientii din centrul de reabilitare, printre care si eu, am fost furiosi.
Cum a putut sa fie atat de necredincioasa si atat de superficiala? Iubirea lor n-a insemnat nimic pentru ea?
Interesant, David a putut sa vada mai bine lucrurile din perspectiva ei, nu a fost la fel de critic pe cat eram noi fata de decizia ei si a fost singurul care i-a luat apararea.
Privind acum in urma, nu sunt sigur daca Rachel s-a purtat bine sau rau, insa comportamentul ei ne poate ajuta sa reflectam asupra intrebarii tale. Gandeste-te la purtarea ei. Te supara?
Cum s-ar schimba sentimentele tale fata de ea daca relatia ei cu David ar fi fost un angajament pe termen lung? Ce-ar fi fost daca erau logoditi? Daca faceau parte dintr-un parteneriat civil?
Ce-ai fi crezut daca erau casatoriti? Cum te-ai purta daca ai fi fost in situatia lui Rachel in fiecare dintre aceste diferite tipuri de relatii? Si cum te-ai astepta sa se poarte jumatatea ta daca el ar fi fost in pozitia lui Rachel in fiecare dintre aceste diferite tipuri de relatii?
Evident, casatoria nu este vreun superadeziv magic in relatiile dintre oameni. Insa mariajul poate fi un important catalizator al angajamentelor fata de relatiile de durata, indeosebi atunci cand, inevitabil, ne lovim de greutati.
Prin urmare, desi nu as pleda pentru casatorie in toate situatiile, cred ca merita sa reflectam asupra modalitatilor in care aceasta traditie poate consolida legaturile durabile intre oameni.
Despre barfa ca mecanism de coordonare sociala
"Draga Dan,
Nu reusesc sa inteleg popularitatea ziarelor si a revistelor de scandal. In ce consta atractia lor?"
D. A.: Nici eu nu o inteleg pe deplin, dar banuiesc ca o parte din atractie este legata de coordonarea sociala.
Cand ne aflam in cadrul unor grupuri, cautam subiecte de discutie la care poate sa participe toata lumea si, nu de putine ori, acestea sfarsesc prin a fi legate de vreme/sport/barfe.
Asta, desigur, mai inseamna ca discutiile graviteaza in mod firesc spre cel mai jos numitor comun – astfel incat oricine sa poata participa la schimburile de pareri.
Chiar daca sportul si barfa nu solicita o multime de cunostinte, ca sa poti intra in discutie, ele cer, totusi, sa stii cate ceva.
Stiind ca, la un moment dat, ne vom gasi in situatii sociale in care se va ajunge la aceste subiecte de conversatie si dornici fiind sa ne integram, inghitim stirile din viata mondena si din sport ca sa putem participa mai intens la petrecerea timpului alaturi de ceilalti.
P.S. In The Hitchhiker's Guide to the Galaxy, Douglas Adams are de spus, in legatura cu tema noastra, urmatoarele: "Nimic nu se deplaseaza mai rapid decat lumina, cu posibila exceptie a vestilor rele, care se supun unor reguli proprii".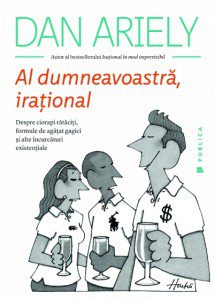 De citit
Al dumneavoastră, irational
Despre ciorapi rataciti, formule de agatat gagici si alte incurcaturi existentiale bazate pe rubrica "Intreaba-l pe Ariely" din The Wall Street Journal. Autor: Dan Ariely; ilustratii de William Haefeli; traducator: Dan Craciun.
Fragmente si ilustratii reproduse cu permisiunea editurii Publica, detinatoare copyright pentru editia in limba romana. Editura Publica
Foto: Editura Publica
✖
Mulțumim pentru că vrei să fim prieteni!