Alexandru Papadopol – "Umorul este calitatea supremă a omului deștept"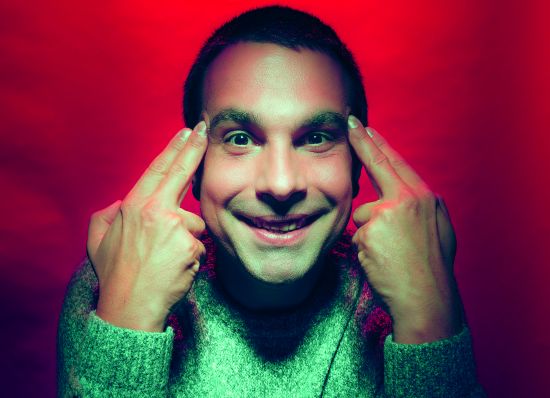 Alexandru Papadopol este un tip bonom, calm și cald. Asta, pe lângă grămada de talent cu care este înzestrat și care transpare în orice gest sau strâmbătură mai subtilă. Dar voi știți deja acest lucru. Dacă nu știți, mergeți să vedeți Două lozuri. O comedie spumoasă despre viața cea mai simplă, unde Alex îi dă viață lui Pompiliu, un "intelectual" cu șosete în sandale.
Psychologies: Care e povestea filmului Două lozuri?  De ce să mergem să-l vedem?
Alexandru Papadopol: Povestea este simplă și cu un fir narativ coerent. Trei băieți dintr-un oraș de provincie câștigă marele premiu la loterie, în valoare de șase milioane de euro, dar biletul le este furat.
Ei încearcă pe toată durata filmului să recupereze biletul. Cred că filmul are toate ingredientele unei comedii de calitate. E un produs sută la sută independent, realizat cu mare bucurie și relaxare.
Spectatorii îl apreciază așa de mult tocmai pentru că sinceritatea celor care au lucrat la film transpare și dincolo de ecran. Cred că era nevoie de o comedie ca Două Lozuri în peisajul cinematografic românesc.
Citește și:
10 artiști care s-au declarat atei
Crezi în noroc? Când ai fost foarte norocos (un moment) și când ghinionist?
A. P.: Da, sunt convins că în viață contează foarte tare " sub ce stele te-ai născut". Eu am fost un băiat norocos, dar după ce am "atras" bunele întâmplări. Cu alte cuvinte, am fost pregătit când a dat norocul peste mine și am știut să gestionez corect succesul.
Nu m-am îmbătat niciodată cu gloria unor "întâmplări" despre care, în sufletul meu, știam că sunt fără consistență. Am văzut actori deosebit de talentați care au fost trădați tocmai de popularitatea de care se bucurau sau de calitățile lor excepționale pe care au mizat atât de tare, încât singuri au ajuns să le transforme în veritabile defecte.
Am avut și ghinioane în viață, pe care am reușit să le trec cu "grație"… Sau poate am fost atât de norocos, încât am reușit să le depășesc?
Poate nici nu a depins foarte tare de propriile mele puteri… Chiar nu știu! Cert este că am avut prieteni foarte buni, care m-au ajutat și au crezut în mine în momentele mai dificile.
Umorul este incorect politic sau nu ?
A. P.: Cred că umorul este calitatea supremă a omului deștept. Dem Rădulescu avea o vorbă genială, apropo de prostia omenească: "Prostul nu are perspectivă".
Cu omul încuiat nu se poate glumi, pentru că devine bănuitor, suspicios… Din punctul meu de vedere, umorul creează afinități și prietenii mai mult decât alte lucruri considerate, în mod artificial, importante.
Este corect politic să observi, să analizezi și să tratezi lucrurile cu justă măsură, fără a fi trufaș. Cred că oponentul umorului este falsul și mereu prezentul orgoliu. De asemenea, am întâlnit și oameni care întrebuințau umorul strict ca pe o formulă de politețe.
Ce crezi despre bancurile cu blonde, țigani, evrei și orice este incorect politic?
A. P.: În ciuda unor bancuri care au uneori poante foarte bune, nu pot spune că am o părere pozitivă, pentru simplul fapt că nu prea cred în generalizări și atitudini superioare.
Mi se par "improprii" și bancurile cu Iisus, tocmai pentru că știu că există foarte multe alte lucruri care pot fi subiect de glumă. Nu sunt un habotnic sau un fundamentalist ortodox, dar am o anumită reținere în a râde nestingherit la bancuri cu "personajul" în cauză.
În incorectitudinea politică pot fi incluse și bancurile cu moldoveni, somalezi etc., dar, până la urmă, și incorectitudinea politică e un concept destul de ambiguu, vag definit și de multe ori interpretabil…
Ai spune despre tine că ești un tip cu umor?
A. P.: Da, în cercurile în care mă învârtesc, trec drept un tip ironic și, semn bun, chiar autoironic. Dar corect ar fi să mă refer și la momentele în care iau lucrurile mult prea în serios și le dau o încărcătură mult mai mare decât au.
Evident, după ce mă relaxez, mi se pare o prostie că am reacționat într-un fel atât de disproporționat față de realitate. Cred că, până a ajunge la umorul pur și nerevanșard, mai e cale lungă.
Spre marea mea bucurie, cunosc oameni deștepți care observă cu delicatețe lucruri care altora li se par obscure și câteodată le mai discută și cu mine…
Ce fel de umor preferi tu? Sarcasmul, ironia tandră, etc.?
A. P.: Sarcasmul, din câte știu, se definește ca fiind o ironie mai dură, mai usturătoare… Da, pot spune că am fost și sarcastic și ironic, în funcție de context și de relaxarea pe care am vrut să o "proiectez" în acel moment…
Greu de spus, și nici nu prea îmi place să vorbesc așa de mult despre niște calități sau defecte deloc palpabile sau cuantificabile.
Sunt un om normal, care reacționează în funcție de moment, conjunctură, propriile frustrări, oboseală sau, ca să folosim un termen tehnic de "impact", în funcție de propria "hartă emoțională".
Care e cel mai bun banc auzit de tine până azi?
A. P.: Nu mi-am făcut un top al bancurilor… Sorry! De altfel, nici nu prea le rețin, și asta mă enervează! Țin minte că am râs foarte tare când l-am auzit pe ăla cu liliacul care s-a ridicat, și ceilalți lilieci, care stăteau cu capul în jos, au zis că a leșinat…
Care e cel mai haios film din istorie?
A. P.: Spre fericirea noastră, sunt multe filme "haioase". Apropo de întrebările anterioare despre umor: iată, pot spune că îmi place felul în care tratează Woody Allen lucrurile. Îmi plac foarte mult unele comedii făcute de el, atât în perioada de tinerețe, cât și în ultimii ani.
De asemenea, Big Lebowski, al fraților Coen, mi se pare o comedie excepțională. O lecție de comedie și de "mecanisme comice" este și To be or not to be a lui Ernst Lubitsch.
Apreciez, în general, filmele "haioase", care au și aură dramatică, adică proiectează mai mult decât arată. Din punctul ăsta de vedere, Charlie Chaplin a excelat, filmele lui sunt pline de duioșie, chiar dacă spectatorul râde cu lacrimi.
Cum se educă simțul umorului, cum să privim viața cu haz?
A. P.: Neuitând că e, de fapt, foarte scurtă și, în mod cert, unică. Ușor de spus, greu de făcut!
Cine ți se pare cel mai lipsit de umor personaj din România de azi?
A. P.: Păi… îmi vin în minte acum tot felul de personaje din zona politică, care se iau foarte în serios. Cum spunea profesorul meu, Dem Rădulescu, "dacă n-ar fi comedie, ar fi tragedie!".
Noroc că mai avem puterea să râdem de ei, că, altfel, am trăi într-o mirare continuă. L-am văzut de curând pe un fost ministru făcând niște grimase hidoase și autointitulân­du-se "brand". Era total lipsit de umor și importanța pe care singur și-o dădea era absolut deplasată. Bine că e doar un "fost"!!!
Cum te binedispui când ești… trist?
A. P.: În general, mă plimb, mă uit la un film. De cele mai multe ori, însă, stau de vorbă cu Ruxandra, cu Ioana sau cu părinții mei și fratele meu. Sunt oameni a căror prezență contează și știu că încearcă să mă "evalueze" cât mai corect.
Dar cel mai bun mod de a pune "piedică" tristeții este spectacolul de teatru. Știu că sună bizar, dar ziua în care apar pe scenă este o zi care capătă o încărcătură energetică aparte.
Am întotdeauna emoții, care îmi abat atenția de la problemele vieții și o direcționează înspre rol și "misiunea" mea din seara aceea. Răspunderea individuală a rolului este vindecătoare câteodată.
Pe de altă parte, încerc să tratez fiecare întâlnire cu publicul ca pe o premieră, chiar dacă am avut zeci de reprezentații cu spectacolul respectiv.
Cum binedispui pe altcineva deprimat?
A. P.: Cred că cel mai bun mod de a binedispune pe cineva este să îi arăt cât de mult contează pentru mine. Cum o fac, depinde de relație și de receptarea corectă a mesajului.
Am cunoscut și oameni care vor doar să fie lăsați în pace în astfel de perioade. Paradoxal, cu cât sunt mai singuri, cu atât își revin mai repede!
Bluntschli, personajul pe care îl interpretez în Soldatul de ciocolată spune: "Și acum, haideți să discutăm amical despre toate aspectele problemei!". Cred că și asta ar fi o soluție…
Foto: Matei Buță
✖
Mulțumim pentru că vrei să fim prieteni!