CAMERON DIAZ: Nu regret decat ceea ce nu am facut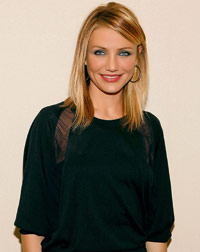 30 august 1972
Se naste Cameron Michelle Diaz in San Diego, California.
1990
A absolvit liceul politehnic Long Beach, California.
1994
Debuteaza in filmul The Mask, unde detine rolul principal alaturi de Jim Carey
2002
Revista People o desemneaza ca fiind una dintre "Cele mai frumoase 50 de persoane din lume".
22 iunie 2009
A primit a 2.386-a stea pe Walk of Fame, Hollywood.
Din martie 2010
Intr-o relatie cu Alex Rodriguez.
Se descrie ca fiind aventuroasa, independenta si un copil dificil. A fost descoperita de un fotograf la o petrecere si intr-o saptamana a ajutat-o sa incheie un contract cu o agentie de modele. Este doar inceputul unei lungi aventuri. Cameron pleaca de-acasa la 16 ani si calatoreste prin toata lumea lucrand ca model. Se reintoarce in California dupa 5 ani si in ciuda faptului ca nu avea experienta si spre surprinderea ei, ia rolul principal din The Mask, alaturi de Jim Carrey.
In realitate, nu e cum te-ai astepta sa fie cea mai bine platita actrita de la Hollywood, este mai degraba prietenoasa si calda decat distanta si stralucitoare. Este genul de fata frumoasa cu care baietii vor sa petreaca timp pentru ca este superba cu picioare lungi, si totusi bea bere si vorbeste despre meciuri cu gura plina de hot dog. Este genul de fata frumoasa cu care fetele vor sa fie prietene pentru ca e amuzanta, aventuroasa si se pricepe sa dea sfaturi de stil – in definitiv, a fost model.
Ce va place cel mai mult la viata dvs. si ce va face fericita in acest moment? 
Cameron Diaz: Sunt indragostita de viata mea. Cred ca e minunat sa o traiesti. Imi iubesc familia si prietenii, iar asta este cel mai important pentru mine. Asta e sanatatea vietii mele: prietenii mei si familia si experienta pe care o impartasesc cu ei. Ma fac sa zambesc si cu sufletul.
Aveti vreo zi pe care ati vrea sa o retraiti?
C.D.: Nu stiu… In ultima vreme m-am gandit la ziua cand calaream un elefant in Nepal, fara sa si in bataia soarelui, cu picioarele goale si cu un tricou pe mine. Asta a fost un moment incredibil. Nu m-ar deranja sa ma intorc acolo si sa-l repet.
Exista loc de regrete in viata dvs.?
C.D.: Regretele nu sunt despre ce ai facut, ci despre ce n-ai facut. Asa ca profit de fiecare oportunitate.
Ce va lipseste?
C.D.: Ceea ce noi, femeile, trebuie sa facem, in loc sa ne ingrijoram in privinta a ceea ce nu avem, este pur si simplu sa iubim ce avem. Ma bucur de ce am.
E adevarat ca aveti radacini latine?
C.D.: Da, radacinile mele latine sunt foarte puternice. Toata viata mea, fiindca sunt blonda cu ochi albastri, oamenilor care nu sunt hispanici nu le vine sa creada ca sunt. Iar cei ce sunt hispanici,
intotdeauna cred ca nu sunt, pentru ca nu arat ca ei. Sa fiu latina este o parte din ceea ce sunt si port asta cu mine in fiecare rol.
Vorbiti spaniola?
C.D.: Doamne, totul suna familiar, chiar inteleg ce spui. Doar ca nu-ti pot raspunde in spaniola. De-abia vorbesc engleza corect. Nu am crescut intr-o comunitate cubaneza sau latina. Am crescut in California, pe plaja, practic. Eu sunt a treia generatie. Provin din descendenti cubanezi, dar sunt americana.
Aveti o stea pe Walk of Fame. Cum va simtiti printre stele?
C.D.: E grozav sa fii sub picioarele oamenilor. E locul unde oamenii pot intelege intr-adevar ca actorii nu sunt stele. Nu exista in cer, ci pe pamant, ca si ceilalti.
✖
Mulțumim pentru că vrei să fim prieteni!