Katherine Heigl: "Imi place sa ma las surprinsa'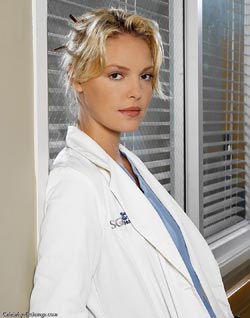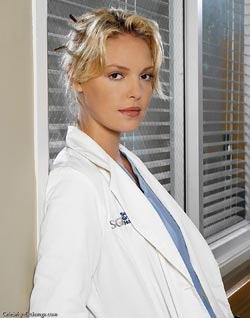 Grey's Anatomy (2005)
Katherine devine cunoscuta in acesta drama centrata pe viata profesionala si personala a unor tineri ce incearca sa devina medici si a unor medici ce se zbat sa ramana oameni.
Ei descopera ca nici medicina, nici relatiile umane nu pot fi traite in alb si negru.
24 noiembrie 1978: Se naste Katherine Heigl in Washington. Are origini jumatate irlandeze, jumatate germanice.
1992: Isi face debutul pe ecrane in That Night. Realizeaza ca actoria este ceea ce o pasioneaza.
23 decembrie 2007: Se casatoreste cu Josh Kelley, muzician.
18 decembrie 2009
Adopta o fetita din Corea, Nancy Leigh Kelley, – nascuta 23 nov. 2008.
Este aproape perfecta, cu formele ei feminine, ochii mari si gura senzuala. In acelasi timp, face parte din specia blondelor discrete si cu umor. O stim din serialul TV Anatomia lui Grey si, mai nou, din cateva comedii romantice, care ii atesta simtul ludic. Vine in Romania intr-o noua comedie, Killers, si ne vorbeste despre maternitate si farmecul actritelor care au si… creier.
Este frumoasa, cu un par ravasit, un zambet inocent si poznas precum cel al lui Brooke Shields din The Blue Lagoon. Iar asta nu e tot. Are personalitate si simtul umorului. Toate astea o fac candidata pentru titulatura de noua regina a filmelor de comedie. A crescut in Connecticut si a devenit model la varsta de noua ani, dupa ce matusa ei i-a trimis fotografiile unei agentii. Apoi a urmat marele ecran.
Pana la varsta de 31 de ani, Katherine se bucura de peste 26 de aparitii in filme de cinema si de televiziune. Nu este tocmai o debutanta, insa de-abia acum incepe sa culeaga roadele muncii depuse. O recunoasteti din Grey's Anatomy, unde joaca rolul unei femei dragute, medic rezident, Izzie, rol ce-i aduce si premiul Emmy.
Te face sa te indragostesti de personajul ei. Romantismul si-a facut curand loc in viata ei. S-a casatorit cu muzicianul Josh Kelley pe care il cunoaste in timpul filmarilor unui videoclip, ea fiind protagonista. El o adora si compune muzica pentru ea. Adopta impreuna o fetita din Coreea, pe care o numesc Nancy Leigh, dupa mama si soacra actritei. Spre deosebire de alte staruri, este putin preocupata sa arate fabulos, are lucruri mai importante pentru care sa se ingrijoreze.
A trecut prin momente dificile, dar inca poate spune: imi ador viata!. Moartea fratelui ei a facut-o sa aiba o alta perspectiva si sa aprecieze viata mai mult. Astazi, actrita lupta pentru importanta donarii de organe.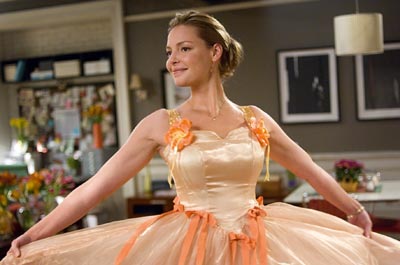 27 dresses (2008)
Jane este tanara, frumoasa, cu celebrul ghinion in dragoste. Domnisoara de onoare la 27 de nunti, se lupta cu ideea de a face acelasi lucru si pentru sora ei, care vrea sa se marite cu barbatul pe care ea il iubeste in secret.
 Psychologies: Sunteti o femeie frumoasa si o actrita talentata. Cum va simtiti in aceasta postura?
Katherine Heigl: Va multumesc. Sunt recunoscatoare ca oamenii cred ca sunt frumoasa sau sexy. Si cred ca este mai bine decat alternativa. Dar incerc sa o combat putin, deci nu toti oamenii ma vad astfel. Imi doresc ca, intr-o zi, sa fiu in pozitia in care voi putea sa-mi aleg un rol in care sa-mi foloseasca creativitatea si nu marimea sutienului. Ar fi mult prea usor sa ma bazez doar pe asta pentru restul carierei mele…
Aratati minunat bruneta…
K.H.: Multumesc. Ador sa-mi schimb infatisarea. Mi-ar placea sa-mi tund parul in stilul punk.
Va place sa amestecati culorile?
K.H.: Da, sunt mai feminina asa. Imi place sa incerc noi look-uri, noi personalitati. Mereu ma gandesc ca, daca as incerca o noua culoare de par, as putea fi o alta persoana. Nu merge asa… ma joc putin cu viata.
Cum va mentineti in forma?
K.H.: Nu fac cascadorii. Nu sunt foarte atletica si nici cu coordonarea nu stau bine. Daca nu eram in industria asta, nu as fi facut gimnastica. Dar am solduri si fund si tot ce presupune asta, inclusiv celulita. Deci, fac tot ce pot…
✖
Mulțumim pentru că vrei să fim prieteni!