Keira Knightley: Sunt foarte autocritica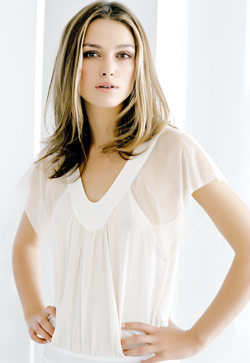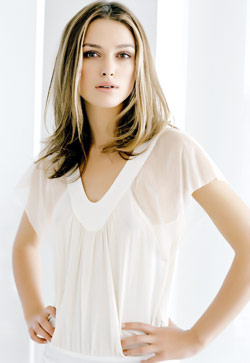 La cata profunzime sa te astepti din partea unei actrite de 24 de ani, faimoasa mai mult pentru rolurile din filmele de actiune? Si totusi… Keira Knightley are si impertinenta primei tinereti, dar si seriozitatea celei care stie ca, odata devenita icon, trebuie sa fie un model.
La varsta de trei ani a solicitat, pe un ton care nu admitea proteste, sa aiba propriul sau agent. Cu o familie care s-a ocupat de teatru sub toate aspectele lui, Keira Knightley nu ar fi putut sa devina… inginera in constructii, de exemplu. Este incredibil de telegenica. Este iubita cu pasiune de camera de filmat, si asta nu e putin lucru.
Sigur, a avea lumea la picioare la nici 24 de ani te poate face sa o iei razna. Dar Keira Knightley este o englezoaica la Hollywood. Fumeaza, bea Guiness si vorbeste fara perdea, pentru ca stie ca nu are ce pierde. Si, pentru ca are si o tona de talent, poate sa se exprime despre orice. Fara forme de pin-up girl, fara complexe sau teluri inalte de atins (pentru ca le-a atins deja) si fara compromisuri de facut, Keira Knightley e atipica. O face pe profunda si, din cand in cand, chiar este.
E ludica si are umor sec (englezesc, "elementary, my dear Watson!"), e androgina si face fite daca ii spui ca este frumoasa. Vrea sa joace femei adevarate si citeste literatura grea. Nu vrea copii (o tema destul de buna de marketing astazi) si nu o intereseaza campania contra anorexiei.
Cum va fi ea peste cinci ani? Conventionala? Leading lady? Keira Knightley este inca proaspata ca o genuina English Rose. In cele ce urmeaza ea se joaca (si joaca) pentru reportera care a intervievat-o cu cateva identitati.
Psychologies: Cum sunteti dumneavoastra, femeia obisnuita?
Keira Knightley: Nu stiu ce in­seam­­na sa fii o femeie obisnuita. Eu sunt barbat (rade). Pentru Atonement am vrut un rol mai matur decat rolurile de fete rele pe care le joc eu de obicei. Am vrut sa interpretez o femeie adevarata. Am vrut sa joc pe cineva cu o anumita maturitate. In plus, personajul meu avea si o pozitie privilegiata.
Cum va smtiti in calitate de englezoaica la Hollywood?
–  Ei bine, stiti cum este la Hollywood… e nostim, insa e doar un loc unde se produc si se cheltuiesc o multime de bani pentru a face filme si exista o gramada de studiouri pe o suprafata foarte mare. Atat. Eu, din fericire, nu locuiesc acolo.
In Marea Britanie nu se fac atatea filme anual. Insa daca lucrezi in industria filmului, nu prea poti iesi din ecuatia asta numita Hollywood. Fiecare conversatie de pe aici se desfasoara pe teme de film. Dar in Anglia poti avea o multime de stiluri de viata diferite. Eu nu am gasit acest lucru la Hollywood.
Cautati un anumit tip de rol?
–  Nu, nici vorba. Am facut, de altfel, un film despre o perioada destul de controversata, este vorba despre The Duchess. Eu ca­u­tam un rol ceva mai contemporan, dar cand am citit scenariul si cartea am fost impresionata. Uneori, vrei sa iti planifici cariera, dar este im­posibil pentru ca tu vrei un anumit tip de roluri si dai peste scenariul de la The Duchess. A fost dragoste la prima vedere! Ar fi fost stupid din partea mea sa il refuz. Mie imi place schimbarea, ma plictiseste rutina.
Ca va fascineaza cel mai mult?
–  Imi este imposibil sa raspund la o astfel de intrebare. Totul. Stiu ca suna prost si ca nu contine informatie pentru dumneavoastra, jurnalistii, dar acesta este adevarul.
Ce relatie aveti cu celebritatea?
–  Eu cred ca celebritatea este un prieten fals. Si esti terminat din punct de vedere uman daca incepi sa crezi ca nu vei fi fericit pana nu atingi o anumita faima. Cred ca eu mi-am am dorit numai sa am suc­ces. Si e cazul tuturor celor care au o cariera: fiecare vrea sa sa aiba tot succesul din lume. Faima este con­trapartea acestui lucru. E un mare noroc daca ai parte de o meserie pe care sa o poti iubi.
✖
Mulțumim pentru că vrei să fim prieteni!