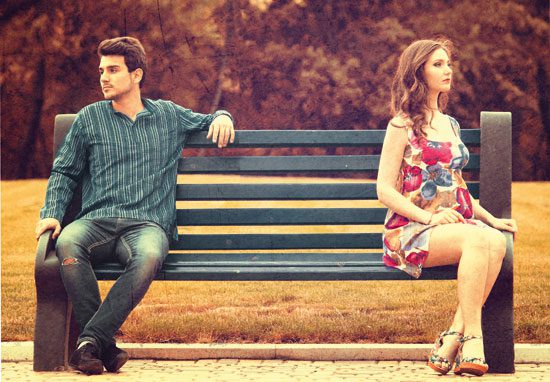 Cel putin o data in viata – si asta daca am fost norocosi –, am trecut prin montagne-russe-ul emotional provocat de o despartire. Gata sa ne descoperim razboinicul interior sau intr-o depresie a la carte, ne-am epuizat emotional si ne-am razvratit impotriva sortii, a Universului, a karmei si, mai ales, a celui care ne-a zdruncinat.
Vorba celor de la White Stripes, I just don't know what to do with myself – cam la asta se rezuma impactul de moment sau de perioada al unei despartiri.
Pentru ca trairile, daca ar dura doar un moment, probabil le-am pastra in caseta "cu bune si cu rele". Dar ele dureaza mai mult, iar daca domnisoara Kate Moss, dupa miscari, am spune ca stie prea bine ce are de facut cu ea insasi, noi, in schimb, suntem dezorientati, pierduti, despartiti nu doar de persoana draga, ci si de noi insine.
Asta, pentru ca drumul cel mai anevoios este cel pe care il parcurgi inapoi catre tine. "Am citit recent in Jocul Ingerului lui Zafon: «Stii care-i partea cea mai buna cu inimile frante?
Ca nu se pot frange cu adevarat decat o singura data, restul sunt zgarieturi» si m-am gandit ca, da, probabil exista o prima experienta si o prima suferinta «neexperimentata».
Dar asa cum poti iubi diferit, poti suferi de fiecare data altfel. Am trecut printr-un divort, m-am mai despartit de oameni, dar cu toate aceste «experiente» am trait si despartirea in care m-am pierdut cu totul. Suficient cat sa am nevoie de terapie.
Lucida eram, stiam ce se intampla si ca imi voi reveni, dar nu vedeam apropiindu-se momentul acela. Din contra. Si atunci am cerut sprijinul unui psiholog", spune Mirela, 31 de ani.
Despartirile sunt traite diferit de barbati si femei, iar despre aceste trairi diferite, psihoterapeutul Ionut Mogosanu spune ca "barbatii sunt mai degraba introverti in aceste situatii, dar se pot intalni si comportamente puternic extroverte, care pot merge pana la acte violente, izbucnirea unui razboi cu «fosta» si cu tot ce inseamna mediul ei.
Barbatii ilustreaza frustrea in special in prezenta prietenilor (barbati si ei) si mai putin in fata altor femei. (Este destul de greu sa «explici» unei femei ceea ce o alta femeie tocmai ti-a facut!)
Femeile sunt, mai degraba, extroverte, cerand explicatii mult mai vehement, dar nu pentru ca ar vrea sa afle ceva motive, ci mai degraba pentru a sti ce ar putea face pentru a pastra relatia (care, evident, nu se mai poate pastra).
Ar trebui acceptat faptul ca separarea este, pana in acest punct, similara mortii partenerului, si aici putem aminti ca femeile sunt cele care «bocesc» la inmormantari, cu strigaturi, si care chiar il dojenesc pe cel «plecat»! Intr-un fel sau altul, separarea devine o certitudine asumata si trebuie  traita ca atare. Diferentele esentiale sunt generate de constructia psihica".
Cand rupi tu primul
Tot Ionut Mogosanu ne mai spune ca "daca esti cel care initiaza acest gest, lucrurile sunt mai simple. Comunicarea deciziei este motivata anterior, este fundamentata, contestata interior si incurajata interior prin analiza unilaterala.
Cand, insa, esti cel/cea care afla brusc acest lucru, situatia este diferita si multitudinea de emotii, sentimente, trairi vine sa agraveze baza de pornire.
Despartirea de partenerul de cuplu (moarte, separare, divort) induce intregul tablou al crizei. Iar criza este generata de necunoscutul care se asaza inainte si debuteaza prin faza de negare".
Sunt cunoscute enunturile acestei faze: "nu se poate!", "nu mi se poate intampla tocmai mie!", "nu credeam ca poate sa-mi faca una ca asta!".
Singuratatea nu este, cu siguranta, un status dezirabil, iar cand ne trezim fata in fata cu ea dupa o perioada petrecuta in cuplu, dorinta de o evita, de a reveni la starea anterioara este destul de mare.
Prin urmare, faza de negare este prima reactie fireasca in fata unei situatii prin care nu ne dorim sa trecem. Dar, cum nu se poate evita inevitabilul, amagirea cu iluzii este daunatoare pe termen lung.
Constient, dar inconstient
Suntem fiinte inzestrate cu ratiune, dar aceasta pare sa ne scape printre degete atunci cand emotiile ne arunca intr-o zona de umbra, guvernand tot ce pana atunci parea control, echilibru, siguranta.
Chiar si atunci cand stim ca suntem irationali, ca nu procedam cum ne este mai bine, ca ne facem rau singuri, capacitatea noastra de a remedia este diminuata substantial. Si parca nu mai suntem noi insine.
Despre comportamentele diferite dupa o despartire, Ionut Mogosanu spu­ne: "La un anumit interval, intensitatea trairilor scade treptat si subiectul incepe sa accepte situatia de fapt.
Acesta este punctul in care incepe sa reac­tioneze. Specific, in functie de nivelul personal de emotivitate, cultura, educatie. Dar deasupra tuturor variabilelor se aseaza amprenta psihica pur proprie si imposibil de cuprins in scheme sau predictii.
In ciuda acestor consideratii, se pot intrezari cateva directii definitorii pentru evolutia individuala in procesul separarii.
Este foarte putin predictibil daca cineva se va «inchide» sau va incepe sa fie mai activ/a cautand o alta companie/relatie. In orice caz, schimbarea stilului de viata nu trebuie sa reprezinte un obiectiv in aceasta etapa".
Reactii
Reactiile in fata noii conjuncturi, atunci cand noi suntem cei abandonati, variaza: de la socul initial – in cazul in care ne amagim ca nu am prevazut asta – la primul impuls de a remedia, convingand partenerul sa ramana, pana la confruntarea cu realitatea pe care nu o putem schimba.
Iar momentul in care ne clarificam ca nu este o situatie reversibila, este cel in care derulam comportamentul de suferind.
Fie ne traim tristetea si evoluam treptat in directia depasirii suferintei, fie ne reorientam intr-o alta schema relationala menita sa ne indeparteze de sentimentul de abandon.
Multe persoane aleg astfel sa se arunce in alte relatii, sa se lase purtate de iluzia indragostirii, sa isi spuna ca totul va fi bine si ca nu conteaza ce s-a intamplat.
Dar astfel de relatii tip bandaj, de cele mai multe ori, nu sunt corecte nici pentru noi, nici pentru noul partener.
Asta, pentru ca bagajul relatiei anterioare nu a fost depus in cutia cu amintiri, ci doar sufocat pe moment, iar noi nu intram intr-o noua relatie echilibrati, ci… cu disperare.
"O prietena m-a numit la un moment dat serial dater pentru ca, indiferent daca rupeam eu sau partenerul relatia pe care o aveam, la scurt timp incepeam una noua.
Acum, daca ma uit in urma, pot cataloga relatiile ca fiind din ce in ce mai defectuoase. Nu cautam in mod corect un partener potrivit, ci cautam motive sa fug de suferinta.
Si atunci, nimic nu era mai placut decat o noua persoana care sa imi spuna ce minunata sunt si ce bine e sa ii fiu in preajma. Aveam nevoie de confirmari exterioare ale valorii mele si fugeam de singuratate.
Pana la urma, am decis sa ma opresc si sa imi infrunt temerile, sa invat sa stau si singura si sa incep o relatie atunci cand sunt pregatita.
In felul acesta, imi iau timpul necesar pentru a ma debarasa de reziduurile relatiei anterioare si daca incep o noua relatie, pornesc de la premise mai roz", spune Ana Maria, 32 de ani.
Chiar daca avem impresia ca o noua relatie ne poate sterge suferintele, nu facem decat sa investim noul partener cu rolul de panaceu, rol pe care nu il poate indeplini nimeni din exterior asupra suferintelor noastre interioare.
Chiar daca este mai dificila, perioada de convalescenta este cea in care ne clarificam si stabilizam emotional. Ideal ar fi sa nu ne afundam nici in suferinte post-iubire fara termen limita, dar perioadele acestea variaza in functie de echilibrul general al unei persoane, de intensitatea relatiei incheiate, de relatia cu sine si de asteptarile din partea celorlalti.
✖
Mulțumim pentru că vrei să fim prieteni!