Cateva adevaruri despre jumatatile masculine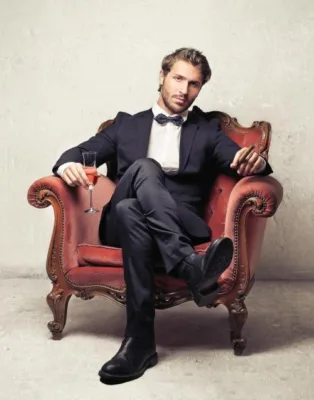 Misterul feminin e deja un mit cultural. Dar sa nu existe oare si un mister masculin? Femeile stiu, in realitate, tot atat de putine despre partenerii lor si despre ce gandesc ei, pe cat stiu ei despre ele. Fiinte complexe, care fac lumea sa mearga inainte, care protejeaza femeile si copiii, care pornesc la razboi, dar construiesc si mari civilizatii, barbatii nostri au particularitati psihologice interesante si profunde.
Cine sunt ei? Istoria mare este istoria faptelor masculine. Cu toate acestea, stim destul de putine despre ceea ce "ii mana in lupta". Cum sunt barbatii de fapt? Stim ca sunt diferiti de femei, dar in ce fel? Ne putem intelege reciproc? Oare se afla si ei intr-un proces de schimbare notabila, odata cu schimbarea feminina adusa de feminism? Cum se formeaza identitatea masculina si ce ne atrage la ei? Iata tot atatea intrebari pe care femeile si le adreseaza mai mult sau mai putin constient atunci cand isi privesc, indragostite si curioase, partenerul, sau cand se cearta cu el.
In cartea The New Identity of Men (Basic Books, New York, 1995) psihoterapeutul american Stephen Bergman incearca o analiza a masculinitatii pornind de la experienta sa de vindecator de suflete barbatesti. El scrie in eseul Current Theories of Male Development ca, in practica sa terapeutica, s-a aflat mai putin preocupat si influentat de teoriile care vorbesc despre "castrare" sau "oglindire narcisica" (adica ideile psihanalizei), decat de puterea vindecatoare a relatiilor impartasite, deopotriva in cazul femeilor si al barbatilor.
"Afirm ca, si in cazul femeilor si al barbatilor, exista o dorinta primordiala de legatura cu ceilalti si este mai putin exact sa ne gandim la sinele autonom decat la sine in relatie cu altii. Ca si la femei, si in cazul barbatilor necazurile vin din deconectarea de ceilalti, din izolare, viol, dominatie si relatii care nu sunt de sustinere reciproca.
Sa fii intr-o relatie lipsita de egalitate si reciprocitate, e o sursa de furie care, la barbat, poate conduce la retragere, stagnare, depresie ori insecuritate, agresiune, violenta. A vorbi despre identitate masculina inainte de a vorbi despre intimitate e gresit. Relatia interumana formeaza identitatea intr-un proces continuu: cu cat suntem mai conectati, cu atat suntem mai puternici", spune Bergman.
MAMA, SARCINA, TESTOSTERONUL
Asadar, conexiunea e cea care da masculinitatea sanatoasa, puternica. Dar, pana acolo, mai sunt niste "detalii". Relatia cu mama e un detaliu important. Baiatul, ca sa se structureze ca barbat, trebuie, zice-se, sa se desprinda de mama. Adevarat, oare? Adevarul este ca aceasta desprindere, un mit cultural, e foarte dureroasa pentru amandoi.
Dar in aceasta desprindere, spune Bergman, "barbatul renunta la invatarea legaturii afective profunde". Si continua Stephen Bergman: "In aceasta desprindere, baiatul nu mai invata cum sa se relationeze afectiv, cum sa fie in legatura cu altcineva si sa se dezvolte personal prin asta.
Nu e ca in cazul fetelor, a caror dezvoltare relationala presupune sa invete sa raspunda la starile afective ale celorlalti. Baietii nu prea invata empatia. Si pentru ca nu au invatat-o, curand o vor subevalua sau chiar dispretui. Sau ii vor nega existenta. Mie mi se pare ca aceasta negare are de-a face cu inabilitatea psihologiei traditionale de a vorbi despre profunzimea experientelor masculine".
Deci, mama ramane reperul psihologic. Dar ea, sau, mai precis, perioada sarcinii, este si un important reper biologic in croiala masculinului, pentru ca poznasul hormon numit "testosteron" ne face ceea ce suntem: barbati sau femei. Lise Eliot e psiholog si in cartea Creier roz, creier bleu (tradusa la Ed. Trei, 2012) ea vorbeste despre rolul exceptional al testosteronului in biologia masculina.
Testosteronul se afla, pe tot parcursul vietii, in procente mult mai mari la barbati decat la femei si asta le da acestora agresivitate, inclusiv erotica, competitivitate crescuta le si "formateaza" creierul in sensul mai bunei orientari spatiale si al gandirii abstracte. Un efect putin studiat (dar mentionat des in studiile pe acest subiect) este cel al testosteronului asupra empatiei sau, mai precis, a lipsei acesteia: se pare ca prea mult testosteron nu duce la empatie si la mai mare putinta de intelegere a ceea ce se intampla in sufletul celuilalt (si, de aici, conflictele femei-barbati, cand ea se asteapta ca el sa priceapa ce simte ea, dincolo de ceea ce ea spune sau nu spune; adevarul este ca barbatilor, pur si simplu, nu le da prin cap nimic de acest gen; ei sunt ghicitori mult mai slabi ai emotiilor celorlalti si e bine sa le spui verde in fata ce astepti de la ei).
Citeste continuarea articolului in revista Psychologies, editia noiembrie 2013.
✖
Mulțumim pentru că vrei să fim prieteni!
Iuliana Alexa
Iuliana Alexa a fost redactorul-sef al revistei Psychologies de la aparitia primei editii a revistei până în anul 2019. Iuliana a absolvit Facultatea de Litere si este coach.