Cea mai nouă soluție pentru păstrarea tinereții și frumuseții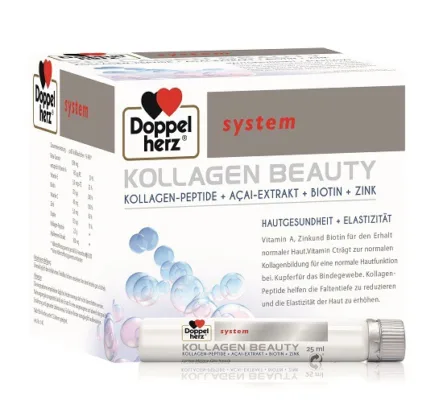 Doppelherz system Kollagen Beauty este o noutate absolută pe piața din România, cu o formulă  avansată de păstrare a tinereții și frumuseții pielii.
Noutatea constă în faptul că, deși este lichid, Kollagen Beauty nu se injectează în piele, ci se bea! Fiecare flacon conține 2,5 g peptide de colagen hidrolizat, varianta cu cea mai rapidă absorbție în organism. La ce folosește Kollagen Beauty? Aflați citind în continuare…
Care este diferența între un ten frumos, sănătos, ferm, și unul lăsat, ridat și îmbătrânit? Colagenul. Primul are suficient colagen ca să-și mențină structura intactă, cel de-al doilea, nu. Lucrul este valabil pentru piele, dar și pentru păr, oase, articulații și unghii, care cresc mai repede și sunt mai rezistente și mai sănătoase atunci când au suficient colagen.
Și, pentru că, odată cu vârsta, producția internă de colagen scade, știința ne vine în ajutor cu suplimente inteligente. Ca să fie eficiente, acestea trebuie să fie ușor de administrat și mai ales ușor de asimilat de organism. Cercetătorii de la Doppelherz au rezolvat și această problemă, cu serul Kollagen Beauty, cea mai nouă formulă de păstrare a frumuseții și tinereții pielii.

Ce este colagenul?
Produs în mod natural de organism, colagenul este o proteină prezentă în piele, păr și unghii, în sistemul osos, muscular și digestiv, în vasele de sânge și articulații. Colagenul menține un nivel ridicat de hidratare al pielii, asigurând fermitatea și elasticitatea acesteia.
Previne apariția ridurilor, împiedică apariția celulitei și vergeturilor, ajută la o cicatrizare rapidă și eficientă. Cu ajutorul colagenului, părul crește mai repede, este mai suplu, mai bine hidratat, se rupe mai greu și nu se despică la vârfuri. La fel și cu unghiile, care cresc mai repede, mai puternice, nu se rup și nu se exfoliază.
Producția colagenului scade treptat după vârsta de 25-30 de ani, fiind condiționată de factori genetici, biologici (modificări celulare, hormonale), de mediu (poluare, expunere la soare), precum și de stilul de viață (fumat, nutriție, stres, tratamente diverse, hidratare necorespunzătoare). Când producția de colagen începe să scadă, este necesară suplimentarea.
Dintre toate suplimentele, cel mai bun este colagenul hidrolizat (descompus termic) sub formă de peptide de colagen, care se absorb cel mai ușor în organism și cu o eficiență superioară. Așa cum este cel din Doppelherz system Kollagen Beauty.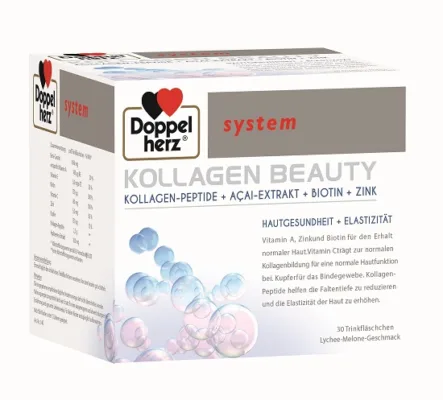 Specialiștii de la Doppelherz au experiență în domeniul obținerii suplimentelor de colagen, întrucât mai produc unul, Doppelherz system Kollagen 11.000 Plus, destinat articulațiilor. Pe lângă 11 g de hidrolizat de colagen și vitamine, acesta  conține  și sulfat de condroitină, un adjuvant pentru menținerea integrității cartilajelor și articulațiilor. Dar nu despre articulații sănătoase vorbim aici, ci despre frumusețe…
Ce conține Kollagen Beauty și ce efecte are, conform studiilor
Fiind special formulat pentru frumusețea și tinerețea pielii, părului și unghiilor, Kollagen Beauty conține 2,5 g peptide de colagen purificat, cu acțiune specifică. Plus câteva vitamine cu un rol important în creșterea absorbției colagenului în piele și efect puternic antioxidant: biotină, beta-caroten (vitamina A) – pentru sănătatea pielii, părului și unghiilor; vitaminele E și C, minerale – zinc și cupru, care stimulează sinteza colagenului; și extract de Açai, cu efect recunoscut anti-ageing.

Conform studiilor, aportul zilnic a 2,5 g de peptide de colagen a avut următoarele efecte:
Creșterea elasticității pielii (cu 7%)*
Creșterea concentrației de elastină din piele, cu 18%**
Reducerea adâncimii ridurilor cu 7% după 4 săptămâni și cu 20% după 8 săptămâni**
După 4 săptămâni, s-a observat o îmbunătățire evidentă a aspectului pielii
Scăderea cu 5,3% a aspectului de celulită după 3 luni și cu 9% după 6 luni, comparativ cu placebo, la femeile cu o greutate corporală normală***
Fermitate cu 11,1% mai mare, o suprafață mai netedă a coapselor***
După 6 luni, celulită și vergeturi reduse
Accelerarea cu 12% a creșterii a unghiilor****
Scăderea cu 42% a frecvenței ruperii unghiilor****
Unghii mai puternice, la majoritatea (64%) participanților la studiu
* Proksch et al (2014) Skin Pharmacol Physiol 27:47-55 Oral supplementation of specific collagen peptides has beneficial effects on human skin physiology: a double-blind, placebo-controlled study.
** Proksch et al (2014) Skin Pharmacol Physiol 27:113–119 Oral intake of specific bioactive collagen peptides reduces skin wrinkles and increases dermal matrix synthesis.  
*** Schunck et al (Journal of Medicinal Food, 2015.) Dietary Supplementation with Specific Collagen Peptides Has a Body Mass Index-Dependent Beneficial Effect on Cellulite Morphology.
**** Hexsel et al (J Cosmet Dermatol. 2017; 00:1–7) Oral supplementation with specific bioactive collagen peptides improves nail growth and reduces symptoms of brittle nails.
Produsul are un gust plăcut de litchi și pepene galben și se poate lua foarte ușor, fără supraveghere medicală.
Prețul Doppelherz system Kollagen Beauty variază în funcție de farmacie, între 125 lei și 200 lei/cutia cu 30 de flacoane.
✖
Mulțumim pentru că vrei să fim prieteni!