ELLE prezinta "Special Night Out", o sesiune extraordinara de shopping nocturn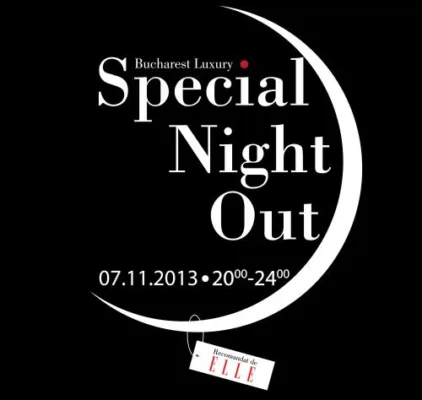 Joi, 7 noiembrie, incepand cu ora 20:00 si pana la miezul noptii, Special Night Out va invita sa faceti turul magazinelor de lux din Bucuresti, pentru a doua oara, in acest an.
Ajuns la cea de-a doua editie, cel mai mare eveniment de acest gen din capitala reuneste magazinele de lux, care isi deschid usile pentru o sesiune extraordinara de shopping nocturn, in cele trei zone de interes ale Bucurestiului, in materie de produse exclusiviste: Calea Victoriei, Calea Dorobantilor si The Grand Avenue, JW Marriott.
Magazinele vor avea in seara de 7 noiembrie programul prelungit pana la ora 00:00, oferind astfel participantilor posibilitatea de a le admira si achizitiona produsele ce includ piese vestimentare, piese de design interior, obiecte de autor, bijuterii sau produse de beauty, multe dintre acestea acordand si oferte speciale.
Prima editie, desfasurata pe data de 30 mai, a adunat nu mai putin de 50 de magazine de lux, printre care Emporio Armani, Gucci, Louis Vuitton, Escada, Valentino, Roberto Cavalli, Burberry, Cesare Paciotti, Lancel si Max Mara, o mare parte dintre ele confirmandu-si din nou participarea.
Bauturile premium nu vor lipsi nici de aceasta data, motiv pentru care in magazinele partenere cumparatorii vor fi serviti cu Martini, The Famous Grouse, Metaxa, Evian si Rémy Martin.
Special Night Out este un eveniment recomandat de Elle Romania.
Cei care doresc sa se bucure de cat mai multe oferte sunt invitati sa isi planifice ruta de shopping cu mare atentie, pentru a nu rata unele dintre cele mai interesante colectii create de designeri celebri. Pentru informatii suplimentare, accesati pagina de Facebook a evenimenului aici.
Va asteptam sa ne bucuram din nou de cea mai lunga si luxoasa noapte de shopping a anului!
✖
Mulțumim pentru că vrei să fim prieteni!