GLAMOUR de martie, fresh&cool la început de primăvară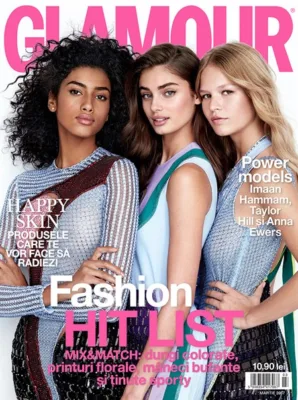 Cele mai cool trenduri explicate și exemplificate, produsele de beauty care te vor face să radiezi, dar și cele mai boeme destinații pentru un city break, interviuri care ne inspiră și poveștile celor trei modele fabuloase care domină podiumurile internaționale: Taylor, Anna și Imaan. Toate acestea te așteaptă în paginile numărului de martie GLAMOUR, din 21 februarie la punctele de distribuție a presei.
Taylor, Anna și Imaan, vedetele de pe coperta ediției de martie, povestesc despre cum și-au început cariera, procesul prin care au dobândit încredere în sine și cum e viața în afara podiumului.
Vei găsi în paginile revistei informații vitale pentru lunile care urmează: produsele care îți vor revitaliza tenul, dar și cele mai în vogă noutăți pentru un make-up glam.
Nu rata sfaturile Alexandrei Apyridopoulou: specialista noastră din această lună îți răspunde la toate întrebările despre cum poți realiza un machiaj care să fie în ton cu personalitatea ta.
Răsfoiește secțiunea de Glamourisme și inspiră-te din desenele celor mai apreciate ilustratoare de modă din lume. Mergi pe mâna starurilor de streetstyle și fă o combinație îndrăzneață: rochia și jeanși.
O pereche de blugi cu rochia un pic prea elegantă pentru o ieșire casual și o pereche de pantofi extravaganți, that's all you need! Apoi fă bilanțul și hai să vedem ce am învățat despre noi în timpul protestelor din ultimele săptămâni.
Primăvara vine cu trenduri noi, așa că te îndemnăm să îți alegi elementul favorit: dungi funky, mâneci bufante, print floral, volane. Ce să fie? Dacă nu știi ce să alegi, poți merge oricând pe un look sporty.
Soarele deja ne încălzește și a început perioada în care facem schimbări în ritualul de beauty. Acordăm mai multă atenție cremelor pe care le folosim pentru față și tocmai de aceea ți-am pregătit un scurt ghid cu cele mai bune produse care să îți revigoreze tenul.
Ca rutina să fie completă trebuie să folosești apă micelară, nu degeaba i se mai spune apa frumuseții, dar alege-o în funcție de nevoile pielii tale!
Iar la capitolul machiaj ți-am pregătit un kit pentru sprâncenele tale și o selecție a celor mai bune produse care îți vor îmbujora tenul.
Și pentru că tot vorbim de primăvară, anul acesta ideea e simplă: indiferent de preferințe, lookul tău trebuie să fie unul fresh&cool!
Pictorialul acestui număr, realizat de Oana Vasilache și fotografiat de Ștefan Dani, se joacă cu piesele sezonului și te inspiră. This spring girls just wanna have fun!
Iar pentru că vine perioada vacanțelor și a relaxării, în care toate visăm să deschidem larg ferestrele și să urmărim un film bun sau să citim o carte de care să nu ne mai dezlipim, citește neapărat interviul cu Scarlett Johansson în care aflăm detalii de culise din povestea noului său film, Ghost in the shell.
Apoi intră în universul literaturii, cu siguranță te vei regăsi în pasiunea pentru cărți a lui John Freeman, editorul revistei literare Freeman's.
Și să nu uităm de planurile de vacanță! Două dintre bloggerițele noastre favorite, Diana Enciu și Alina Tanasă (fabulousmuses.net) te invită într-o periplu fabulos într-un loc fermecător: Veneția.
GLAMOUR de martie te așteaptă la toate punctele de distribuție, începând cu 21 februarie, la prețul de 10,90 lei și conține un cadou special: un choker glam pe care să îl porți întreaga primăvară.
✖
Mulțumim pentru că vrei să fim prieteni!