Filip Florian va fi prezent la PEN World Voices Festival, New York, prezidat anul acesta de Salman Rushdie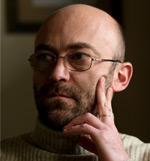 Filip Florian va participa la prestigiosul festival international de literatura PEN World Voices, la New York, in perioada 28 aprilie – 3 mai.
Autorul va prezenta in cadrul unor lecturi publice si mese rotunde atit primul sau roman aparut in limba engleza in SUA, Degete mici/Little Fingers, publicat de Houghton Mifflin Harcourt in 2009, cit si al doilea roman in curs de publicare la aceeasi editura – Zilele regelui/The Days of the King, ambele in traducerea lui Alistair Ian Blyth.
Pe 30 aprilie, la ora 12.30, la Deutsches Haus, Filip Florian va participa la eventul "Garden readings", unde va citi din romanul Degete mici, iar pe 1 mai, la ora 12.30, la Scandinavia House, unde va citi din Zilele Regelui, in cadrul evenimentului "War and the novel". La "Garden readings" vor mai participa scriitorii Rodrigo Fresan, Marcel Moring, Thomas Pletzinger si Monique Proulx. La "War and the novel", alaturi de Filip Florian, mai participa: Bernardo Atxaga, Assaf Gavron si Atiq Rahimi. Intilnirea va fi moderata de Susan Kuklin.
PEN World Voices Festival este prezidat la editia din acest an de Salman Rushdie si aduce laolalta 150 de scriitori, din 40 de tari, care vor fi prezentati publicului in peste 50 de evenimente.
Participarea lui Filip Florian la PEN World Voices Festival se bucura de sprijinul Institutului Cultural Roman din New York. ICRNY a lansat in 2009 o serie de evenimente de prezentare a unor autori romani pe durata Festivalului PEN World Voices. Ca urmare a proiectului din 2009 si a receptiei foarte bune de care s-a bucurat volumul Little Fingers in SUA, PEN World Voices l-a inclus pe Filip Florian in selectia oficiala a editiei de anul acesta a festivalului.
Dupa publicarea primei editii, in anul 2005, romanul Degete mici a primit Premiul pentru "Cel mai bun debut" acordat de Romania literara si Fundatia Anonimul (2005) si Premiul Uniunii Scriitorilor din Romania pentru "Cel mai bun debut in proza" (acordat in 2006). De asemenea, autorului i-a fost acordat Premiul de excelenta pentru debut in literatura al U.N.P.R. Degete mici reprezinta debutul literar al autorului si a aparut pina acum in doua editii, ambele la Editura Polirom, in colectia "Ego. Proza" (coordonator Lucian Dan Teodorovici).
Versiunea in limba engleza a romanului, Little fingers, a aparut in 2009 la prestigioasa editura americana Houghton Mifflin Harcourt, in traducerea lui Alistair Ian Blyth.
In anul 2008, romanul Degete mici a fost publicat de Suhrkamp, una dintre cele mai importante edituri germane, in traducerea lui Georg Aescht, cu titlul Kleine Finger. Degete mici a mai fost tradus in slovena, slovaca, maghiara, poloneza si italiana si va mai aparea in spaniola.
Impreuna cu fratele sau, Matei Florian, tot in colectia "Ego. Proza" de la Polirom, Filip Florian a publicat, in trei editii, romanul Baiuteii (2006; 2007; 2010). Volumul a aparut in polona, urmind sa fie publicat si de Acantilado (Spania) si Plural Plus (Bulgaria).
Zilele regelui (2008) a fost recompensat cu premiul Manuscriptum acordat de Muzeul Literaturii Romane si a fost declarat Cartea anului 2008 la Colocviul romanului romanesc contemporan. Autorul a semnat pentru Zilele regelui un contract de traducere tot cu Editura Houghton Mifflin Harcourt (English World Rights), publicarea in Statele Unite fiind preconizata pentru primavara lui 2011. Zilele regelui a aparut in 2009 in limba maghiara, la Editura Magveto, in traducere lui Karacsonyi Zsolt, cu titlul A kiraly napjai, si va fi tiparit in acest an de editura Plural Plus, in limba bulgara.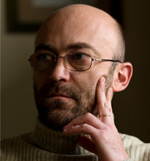 Filip Florian (n. 1968, Bucuresti) este unul dintre cei mai importanti scriitori din noua generatie. In perioada 1990-1992, a fost reporter special la Cuvantul; intre 1992 si 1995, redactor la biroul din Bucuresti al postului de radio Europa libera; intre 1995 si 1999, corespondent al Deutsche Welle la Bucuresti.
✖
Mulțumim pentru că vrei să fim prieteni!