În ultimii ani Halloweenul a pătruns din ce în ce mai hotărât în ritualurile noastre de cumpărare, mai ales prin intermediul copiilor, incitați chiar la școală să se costumeze. Treptat, lumea consumului a impus un set de semne care la prima vedere îi șochează pe adulți (schelete, cranii, machiaj negru, dublate de portocaliul dezlănțuit al dovlecilor masacrați în fel și chip cu această ocazie). Adulții știu că la noi iconografia lumii de dincolo este mult mai discretă, iar ritualurile de Ziua Morților sunt ușor diferite.
Ceea ce însă ignoră majoritatea adulților de acum este că această sărbătoare, care la noi este Ziua Tuturor Sfinților sau Ziua Morților și în occident a început la un moment dat să poarte numele de Halloween, își are rădăcinile simbolice în comunicarea lumilor: este una dintre porțile anului în care lumea de dincolo are acces la lumea noastră terestră și lumea celor vii se intersectează cu lumea strămoșilor de dincolo, cu toate implicațiile tandre, binevoitoare sau persecutoare ale acesteia. Psihic, marchează un moment de unire a contrariilor, de sinteză, un efort al psihicului de a se confrunta cu aspecte de pe fața sa nevăzută și de a le integra.
Acest efort a fost odinioară simbolizat prin luarea în tărbacă a spiritelor de Halloween, când viii fac haz de morți și morții fac haz de vii. Dacă bisericile de peste tot au reținut numai aspectul de pietate față de strămoși al acestei zile, cultura populară a luat asupra ei această imagine în oglindă, acest inconștient al sărbătorii, pentru a crea echilibrul psihic necesar. Da, întotdeauna raportul cu strămoșii are o latură de ambivalență – iar pe poarta deschisă între lumi intră entități felurite, angelice, dar și mai puțin angelice, câteodată chiar demonice, exact cum intră și pe porțile care se deschid în psihic și pe unde pătrunde inconștientul. Sunt părți care se cer conjurate și îmblânzite. Halloweenul a reprezentat cândva o încercare simbolică de a face asta, dar prin repetare și prin desacralizare din cauza consumului s-a despuiat treptat de încărcătura sa simbolică și a devenit numai un comerț cu semne.
Arta însă a avut, are și va avea acest dar de a revrăji și resimboliza lumea, pe căi care nu totdeauna sunt evidente, dar sunt eficiente.
Reflecțiile de față mi-au fost prilejuite de cea mai incitantă colecție de bijuterii pe care am văzut-o în ultimii ani. Era caniculă, vara fierbinte a acestui an, asfaltul se topea, mintea începuse să se topească și ea cu el, când mi-au atras atența fotografiile noii colecții de bijuterii din porțelan pictat cu aur creată de Ana Wagner. Cu nerăbdare m-am dus să văd și lucrul în sine, colecția, la atelierul Wagner din Cotroceni – unde o vizită în sine este o experiență – dar despre asta vă voi vorbi alta dată.
Așa am ajuns să fiu față în față cu #inbloom: cea mai actuală colecție perenă, de la Wagner Arte.
Ana Wagner transpune cu căldură și curaj, dar și cu mare acuratețe, spiritul timpului accelerat al ultimilor ani. Colecția #inbloom este actuală în sensul unei imersiuni vindecătoare în spiritul timpului nostru marcat de obsesia finitudinii fizice. Frumusețea gingașă, aproape aerată, a bijuteriilor marcate de simbolul craniului transpus în contexte vitale care sugerează înflorirea ne permite să purtăm și să trăim mesajul acestor timpuri ale noastre, să acceptăm finitudinea fizică deschizând poarta unei spiritualități adormite, a cărei existență poate nici nu o bănuiam.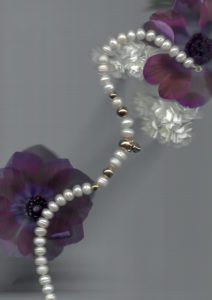 Dacă un creator cum a fost Alexander McQueen a readus craniul printre simbolurile lumii contemporane, imprimându-i o nuanță de dramatism, dar câteodată și umor, câteodată chiar sarcasm, viziunea Anei Wagner este diferită, este feminină.
Spre deosebire de dramatismul meditativ al lui Alexander McQueen, care a folosit simbolul craniului în conceptul său de savage beauty, perfect ilustrat de fotografiile autorului în chip de Hamlet, Ana Wagner are o abordare feminină, în care simbolul craniului devine absolut înfloritor.
Ana însăși își pune în legătură colecția #inbloom cu spiritul care a dat naștere fenomenului mexican numit dia de los muertos. Celebrată de Ziua tuturor sfinților, aceasta este ziua când morții sunt așteptați să se întoarcă în lumea viilor și sunt întâmpinați cu mari onoruri, haine strălucitoare și colorate, dansuri, parade, bunătăți și tot felul de dulciuri în formă de… craniu! Asistăm la o celebrare a vieții de care se bucură deopotrivă cei din lumea aceasta și cei din lumea de dincolo. Halloweenul mexican este colorat, înfloritor și mai degrabă feminin ca simbolistică, spre deosebire de Halloweenul gotic care a pătruns la noi și care pune mai degrabă accentul pe negru și sublinierea aspectelor sinistre – mai degrabă masculin, ca simbolistică.
Dia de los muertos este mărturia rămasă în zilele noastre din întâlnirea între ideile despre moarte a două culturi care s-au confruntat și în final au fuzionat pe pământ mexican: aztecă și creștină. Dacă în cultura aztecă exista o zeiță reprezentată purtând cranii drept semințe ale vieții și de fapt ale continuității și perenității spiritului uman (deoarece craniul era sălașul forței vitale a trupului și spiritului, vieții și conștiinței deopotrivă), viziunea creștină a făcut să gliseze această reprezentare spre o adevărată Pieta, al cărei sens este numai în înviere și viață. Prezența craniilor în ceremoniile Dia de Los Muertos este semnul unei reprezentări exatice a învierii ca un proces la fel de natural ca și înflorirea.
Ana și-ar fi putut numi colecția chiar Carpe Diem sau Stop and Smell the Roses. Inclus printre flori și detalii fine, craniul este acolo nu pentru a ne înspăimânta, ci pentru a ne atrage atenția asupra intensității pe care o cere de la noi fiecare moment al vieții, precum și asupra singurelor noastre șanse la  eternitate, care sunt frumusețea și iubirea – chiar valorile centrale și direcția estetică a Casei Wagner. Cu #inbloom ni se demonstrează încă o dată că trăirea frumusețiii este o trăire fizică și spirituală deopotrivă.
Prin textura lor netedă și sclipirea de oglindă, craniile create de Ana, modelate din pământul cel mai  pur, arse în focul încă o dată pur și pictate cu aurul înțelepților au, pe de o parte, gingășia unor perle și, pe de altă parte, spiritualitatea pe care o inspiră craniile de cristal din America de Sud.
✖
Mulțumim pentru că vrei să fim prieteni!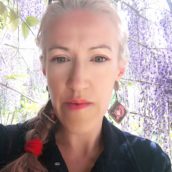 Roxana Melnicu
Roxana Melnicu este redactor-șef al revistei Psychologies. Psiholog din 1997, jurnalist din 2000, Roxana a tradus numeroase lucrări din câmpul psihologic, iar obiectivul ei este ambițios: construirea unei culturi psihologice care să fie activă pe o pe scară cât mai largă în societatea românească.