Cameron Diaz: Nu ma intereseaza aparentele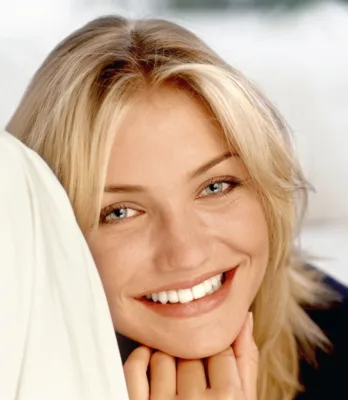 O blonda superba, cu un tonus de zile mari, cu un simt al umorului contagios. Cameron Diaz a trecut de la sex simbol la statutul de sex simbol cu creier, farmec si talent. Un upgrade serios in cariera, dar nu atat de rapid in viata personala. Vrea sa infieze un copil, daca nu gaseste un tata demn sa faca un copil, se amuza pe tema fricii proprii de graviditate si detesta mofturile modei.
In tinerete a fost model, ani de zile a fost cuplata cu Justin Timberlake… Se pare ca e o femeie pentru care niciun tabu legat de varsta ori de vreun scenariu de viata prea convetional nu functioneaza. Barbati mai tineri, sport din plin, viata de noapte, supercelebritate si faima de a intarzia oriunde merge. Si-a spart nasul de patru ori si abia atunci s-a dus la medicul plastician. Simpatica, nu? The sky is the limit pentru Cameron Diaz.

Psychologies: In cel mai recent film, ati jucat o nastere foarte credibila. Nu va sperie insa cand vine vorba de viata reala?
Cameron Diaz: Sora mea a nascut trei copii, doi natural si unul prin cezariana. Am vazut toate nasterile si nu m-e frica. Simt doar bucurie si neliniste atunci cand vad un copil venind pe lume. Mai interesant a fost ca, atunci cand au adus in camera un copil adevarat, toate actritele am fost terminate dupa el. Era o fetita de 14 zile si ne-a coplesit pe toti cu dragalasenia ei.

Va face sa va doriti un copil?
C.D.: Iubesc copiii si am o multime de copii in viata. De 15 ani sunt matusa cu norma intreaga, am experienta considerabila cu cei mici. Cred ca, da, sunt pregatita pentru aceasta parte a vietii, sa am familia mea si, chiar daca va fi sa adopt un copil sau sa-l fac eu – daca voi gasi un tata sau nu – sunt deschisa sa ofer multa iubire. Vreau sa ofer iubire. Ce va fi, va fi.

Ati face acest pas de una singura?
C.D.: Nu cred ca ma gandesc prea mult la asta si nu pot raspunde la intrebare. Daca ajung acolo, va fi pentru ca a fost alegerea mea, nu a hazardului sau a altcuiva. Nu stiu unde ma va duce viata.

Ce regim de viata aveti de va mentineti atat de frumoasa?
C.D.: Ma antrenez zilnic, fac surf… Cand nu lucrez, fac sport, constant – asta e viata mea. Imi place sportul. Imi place sa ridic greutati, am muschii dezvoltati si recomand acest tip de exercitii femeilor de peste 40 de ani. Asta le va ajuta sa ramana in forma mai mult timp, pentru ca, dupa o anumita perioada, muschii nu se mai dezvolta si este bine sa ii aiba deja antrenati. Nici oasele nu se mai reconstruiesc si ai nevoie de un schelet puternic. Ca sa nu pierzi masa osoasa si sa poti face si la 60 de ani ceea ce faceai la 40.
Citeste continuarea interviului in revista Psychologies, editia noiembrie 2012.
✖
Mulțumim pentru că vrei să fim prieteni!