Meryl Streep, o mama in rol de mama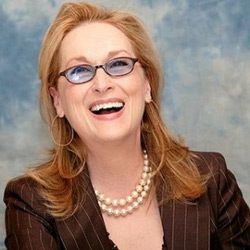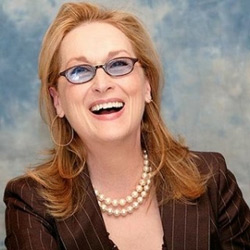 Distinctie, inteligenta, sensibilitate si trei Premii Oscar… Meryl Streep nu intra in istoria cinematografiei ca sex simbol in sensul frivol in care au facut-o alte actrite. Si totusi, pentru multe femei este un model in toate privintele: personalitate, cariera, familie.
Zilele trecute, invitata la Radio Times, Meryl Streep se declara o reprezentanta si o sustinatoare a tuturor actritelor trecute de tinerete. Ea solicita atentia producatorilor pentru publicul feminin matur si crearea de partituri corespunzatoare acestei grupe. Cel mai convingator argument il constitue chiar filmul sau recent, Mama Mia, care, desi nu este focalizat pe frumusetea de consum sau pe varsta tuturor sanselor, a avut, totusi – si continua sa aiba – un mare succes la public, concretizat in incasari impresionante.
Desigur, Meryl Streep nu se poate plange de lipsa de sansa sau de neglijare din partea regizorilor, a producatorilor sau a publicului. Cariera ei inseamna peste 60 de filme artistice de lung metraj, peste 100 de aparitii la televiziune, 15 nominalizari la Premiile Academiei (Oscar), dintre care trei finalizate cu castig: Premiul pentru cea mai buna actrita intr-un rol de sustinere (secundar, spunem noi, impropriu) – The Deer Hunter (1978) si Kramer vs. Kramer (1979) – precum si Premiul pentru cea mai buna actrita in rol principal – Sophie's Choice (1982).
Si lista realizarilor sale se imbogateste continuu. La sfarsitul acestui an – data anuntata este 25 decembrie – vom avea o noua premiera cu Meryl Streep in rolul principal. Deocamdata, filmul este acreditat ca Proiectul fara titlu al lui Nancy Meyers.
Cine este Nancy Meyers? Este o alta femeie de mare succes in lumea filmului, nascuta in acelasi an cu faimoasa actrita: 1949. Scenarist, producator ba si regizor, in cateva cazuri. Ca repere: Father of the Bride (Tatal miresei) – scenariu; What Women Want (Ce-si doresc femeile) – scenariu si productie. De aceasta data, pentru filmul care inca nu a primit un titlu definitiv, Nancy Meyers va fi si scenarist si producator si regizor. In distributie mai apar Alec Baldwin, Steve Martin si Hunter Parrish.
Maryl Streep va interpreta rolul unei mame care sufera de cea ce se numeste sindromul de cuib gol: ceva intre depresie si sindromul abandonului care intervine uneori la parintii de varsta a treia ai caror copii se casatoresc si/sau pleaca sa locuiasca in alta parte.
Poate fi un avertisment pentru Meryl Streep, mama a patru copii cu varste intre 17 si 30 de ani?
Tocmai despre vocatia de mama si sotie vorbeste Meryl Streep in interviul din editia pe luna februarie a revistei "Psychologies".
Text: Mihaela Serea
Foto: standemands.blogspot.com
✖
Mulțumim pentru că vrei să fim prieteni!