Nicole Kidman – Vreau sa ies din zona mea de confort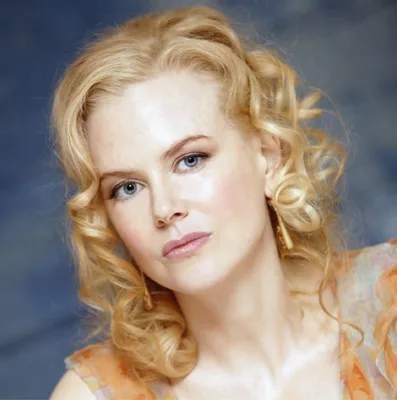 Are 45 de ani, dar o frumusete care nu pare sa fie afectata de trecerea timpului, si e mereu supla, expresiva, calda. Desi are o inaltime inhibanta (1,80 m), Nicole Kidman e totusi abordabila si simpatica. Nimic din diva inaccesibila de pe ecran…
Bio
Este alergica la capsuni si ii este foarte teama de fluturi.
In 2001, a devenit nasa baietelului lui Simon Baker, cunoscutul actor din The Mentalist, fiind foarte buna prietena cu sotia acestuia.
Avand in vedere diferenta de inaltime dintre ea si fostul sot, Tom Cruise, la aproape toate iesirile publice nu purta pantofi cu toc. Desigur, dupa divort a demonstrat ca este o mare iubitoare a tocurilor inalte.
Din cercul sau de prieteni de suflet fac parte Renée Zellweger, Jim Carrey, Russell Crowe, Meryl Streep, Naomi Watts, Hugh Jackman, Daniel Craig.
In copilarie si adolescenta a cochetat intai cu baletul, prima sa mare dragoste, si abia apoi cu actoria, pentru care de altfel s-a retras de la liceu. Canta bine la pian si este o mare iubitoare a artei, in general.
La nunta cu Keith Urban si-a rugat invitatii sa nu le cumpere cadouri, ci sumele respective sa le doneze pentru o organizatie umanitara.
Niciodata nu a folosit dubluri pentru a filma scenele ce presupuneau nuditate.
Este foarte atenta cu pielea ei. Intotdeauna foloseste crema de protectie solara si niciodata nu iese fara palarie si ochelari de soare.
Glamour…, dar nu mereu
Nicole Kidman are un spirit casnic zilele acestea si declara ca e o mama fericita. Acasa, trebaluieste cu mesele sanatoase pentru cele doua fiice, Sunday Rose si Faith. Sotul ei, Keith Urban, star de country si arbitru la TV show American Idol, e prin preajma.
Actrita are 45 de ani si pielea ei delicata e aproape neatinsa de varsta. Dar e puternica si impunatoare atunci cand vorbeste de cariera ei, de sot, de fiice, de viata lor in Nashville, de prietenii apropiati, de familia din Australia si de tot ceea ce mai poate vorbi o femeie cu viata asa de complicata.
In Paperboy, joaca alaturi de Zac Efron, Matthew McConaughey si John Cusack, un film despre un reporter, Ward Jansen (Matthew), ce revine acasa, in Florida, sa investigheze un sir de crime.
Cea care l-a atras in acest demers este Charlotte Bless, jucata de Nicole, o femeie care a mentinut corespondenta cu inculpatul si care crede ca e indragostita de el. Chiar si dupa ce reporterul se indragosteste de ea realmente, Charlotte este atat de "confiscata" de amorul ei pentru cel inchis, incat nu intelege.
Filmul este un thriller puternic despre iubire, onoare, mantuire, legatura umana. Are si un continut destul de explicit; in plus, limbajul e adesea cam "verde". Ceva nou pentru actrita care joaca partituri mai elegante.
Dar adesea apare in povesti despre o dragoste chinuita din diverse motive. Exemple? Rabbit Hole, Go with It, The Hours, Dogville, Stepford Wives, Moulin Rouge, Eyes Wide Shut, Cold Mountain, The Human Stain si altele.
Are portia ei de experinte negative, desi ele doar i-au facut mai complexa frumusetea si personalitatea. Azi, are o ferma langa Nashville, cultiva legume si sta departe de luminile de la Hollywood.
Ii place sa se afle in mijlocul naturii si vorbeste cu placere despre dovleceii si porumbul cultivat de ea. Dar cel mai bun lucru din viata, asa cum declara, sunt cele doua fiice – cu ochi albastri si frumusetea ei delicata…
Cum este Nicole Kidman ca mama? Va amuzati mult cu fiicele dvs.?
Nicole Kidman: Am fiice de varste foarte diferite. Deci as putea spune ca ma amuz cu fiecare in alt fel. Cu cea mica am jucat prinselea de dimineata acasa.
In filmul The Paperboy ati interpretat o scena de sex destul de dur cu John Cusack… Cum a fost sa jucati asa ceva? Nu e un scenariu oarecare…
N. K.: Nici nu il stiam personal pe John. Si uite ca am jucat! Am interactionat unul cu altul in calitate de personaje. Si asa ne-a fost mai usor. Nu ne stiam de dinainte, dar la sfarsit a venit la mine si mi-a zis simplu: "Buna, sunt John…".
Mergeti foarte departe din punct de vedere sexual cu acest film. A existat si ceva ce ati refuzat sa faceti?
N. K.: Nu cred… Ba da, a fost ceva. Nu am vrut sa vorbesc obscen si discriminatoriu fata de negri, am simtit ca nu e in firea personajului meu.
Alte motive?
N. K.: Am un fiu care este de culoare si am simtit ca nu e bine sa ma auda vorbind asa. Deci, am negociat cu regizorul si nu am spus prostii. Dar de obicei esti acolo ca sa duci la capat viziunea lui, a celui care regizeaza filmul, de aia esti platit.
Si cum faceti asta?
N. K.: Am si eu opinii, idei… Sunt acolo ca sa il stimulez si sa ii dau idei regizorului, cel putin in teorie. Dar in acelasi timp nu trebuie sa ii pun bete in roate. Si incerc mereu, cu fiecare regizor cu care lucrez, sa nu ii distrug viziunea. Trebuie sa fiu o muza, mai degraba. Sau sa creez impreuna cu el personajul. Deci, probabil ca de aici mi-a venit usurinta cu care mi-am desfacut picioarele…
Cum ati intrat in capul acelei femei nebune si obsedate de sex?
N. K.: Eu nu am privit-o ca pe o femeie nebuna. Pentru mine nu exista multi nebuni. Ea este realmente o femeie stricata la cap si ii este frica de intimitate, de fapt. Asta e mecanismul relatiilor dintre o femeie si un puscarias care mai apar in SUA. Cand el iese, povestea se schimba. Si asta a fost tare interesant pentru mine.
Mai este un episod: cand… urinati pe Jack, cel indragostit de dvs.
N. K.: Pe ea, pe femeia pe care o joc eu, o deranja ca acel barbat o urmeaza ca un catel, peste tot. Si, in acelasi timp, nu vrea sa-i distruga viata. Pentru ca, daca i-ar fi aratat cat de putina atentie, daca ar fi fost mai calda cu el, l-ar fi distrus.
Adica?
N. K.: Ii spune: "Stii, tu, de fapt, nu ma vrei pe mine, crede-ma"! E un mod de a-l salva. Un fel de declaratie tragica de iubire.
Cum e cu garderoba aceea saracacioasa din film?
N. K.: Pai nu am avut buget pentru garderoba, deci m-am imbracat singura din magazinele second hand din New Orleans. Cativa dolari fiecare haina de pe mine, ca sa arat ca o femeie saraca indragostita de un puscarias…
Interesanta abordare…
N. K.: Am 45 de ani. Am lucrat multa vreme in industria asta si cu o multime de regizori. In cele mai diverse locuri. Acum vreau sa ies din zona mea de confort. Vreau sa merg in locuri unde nu am mai ajuns, sa ma simt aiurea acolo. Vreau sa experimentez lipsa de confort. Sa ma simt provocata.
E tot mai greu sa gasesti roluri care sa iti aduca asa ceva. Si nici oameni care sa o faca pentru mine nu sunt. Nu vreau sa raman la acest nivel de viata fara sa aflu ceva nou. Ma sperie. Prefer sa fortez lucrurile si, in urmatoarele decade ale vietii mele, sa dau si mai mult din ceea ce stiu ca am de dat.
Si, da, in locuri diferite. Deci cam pe aici ma gasesc cu filozofia de viata acum. Uneori merge, alteori nu merge… Pentru mine libertatea sexuala e importanta, ca actor. Din acest punct de vedere, am fost gata sa refuz cat mai putine lucruri in filmul acesta.
Dar, ca actor, am dreptul sa refuz. Si e atata prejudecata referitoare la varsta si la ce se poate face si ce trebuie facut pe acest teren, incat am dorit sa elimin tabuurile. Si sa lupt cu propria mea frica.
Cum e dragostea materna?
N. K.: Din momentul in care am experimentat grija pentru un copil, cred ca puterea mea s-a inzecit. Copiii mei imi dau bucuria si dorinta de a trai. Apoi, ma fac sa ma pot exprima in multiplele variante ale feminitatii… Este o experienta care te imbogateste extraordinar!
Mama mea m-a construit pe mine, la randul ei. In vremuri bune si mai putin bune, am avut o mama care a fost acolo, puternica precum stanca. Si adesea destul de severa cu mine. Dar cu multa, multa dragoste. Este o feminista si are o constiinta sociala puternica, dar si multa compasiune.
Se pare ca va atrag femeile care vor mereu si mereu mai mult. Care e satisfactia aici?
N. K.: Ma atrag roluri foarte diferite. Dar vreau uneori si ceva care sa ma inspire… De exemplu, rolul Virginiei Woolf m-a umplut de neliniste. Am invatat din rolul acesta, precum si din povestea ei si a altora. Iubesc femeile care ard lumanarea pana la capat cu demnitate.
Cum va schimba copiii?
N. K.: Vreau sa fiu acolo pentru ei si sa am grija de ei. Vreau sa am grija de mine cum pot mai bine, ca sa pot face asta.
Cum?
N. K.: De exemplu, meditez. Mananc sanatos. Inot si fac drumetii, e bine pentru mine si e bine sa ma vada facand asta. Copiii fac ceea ce ne vad pe noi ca facem, asta e esential.
Dar schimbarile in viata de femeie, antrenate de copii?
N. K.: Iubirea nu poate fi vreodata mai profunda decat cea pe care o simti pentru ei. Puterea pe care o simti atunci cand tii pentru prima data in brate creatura aceea mica, nu se compara cu nimic.
Ce fel de sot este Keith?
N. K.: Este foarte discret. Mai ales discret. Dar, in general, e cald, grijuliu si un tata minunat. Suntem amandoi foarte norocosi ca ne avem unul pe altul. Acum ma bucur de perioada asta in care nu fac film si de statul acasa cu el si cu fetele. E grozav!
✖
Mulțumim pentru că vrei să fim prieteni!