De ce avem nevoie de imbratisari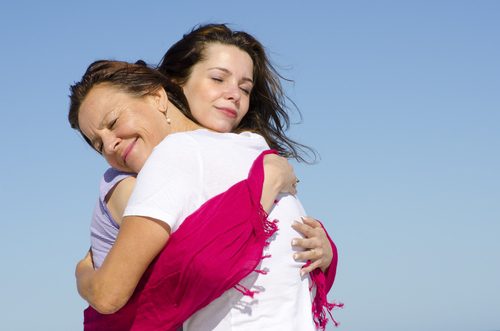 In spatele multor momente triste sau fericite sta mereu ascunsa dorinta unei imbratisari. Dupa o cearta, o zi grea la serviciu sau orice eveniment neplacut, primul refugiu care iti vine in minte este sa fugi in bratele unei persoane importante pentru tine. Dar oare ce ne ofera, de fapt, aceste imbratisari si de ce avem atat de multa nevoie de ele?
Imbratisarile cresc nivelul de fericire
In general imbratisarile dureaza cateva secunde, insa energia pozitiva si optimismul pe care le simtim sunt atat de puternice incat ne pot influenta starea de spirit pentru o ora, o zi sau poate chiar mai mult. De aceea nu doar o data ne-am gandit cum ar fi sa putem opri timpul in loc intr-un astfel de moment.
Imbratisarile ne dau o stare de bine iar conform studiilor s-a observat ca atunci cand oamenii se tin in brate inevitabil creste in corp si nivelul de oxitocina – hormonul fericirii. Totodata aceasta conexiune ne ajuta sa avem o mai mare incredere in noi si o stima de sine ridicata.
Cu adevarat o imbratisare de la o persoana draga poate face ca in cateva secunde tristetea sa ne dispara, lacrimile sufletului agitat sa se linisteasca iar zambetul sa-si gaseasca locul potrivit pe chipul nostru.
Sentimentul de singuratate este alungat
In timpul copilariei am avut nevoie de cele mai multe imbratisari. Cercetatorii afirma ca daca cei mici sunt luati in brate des se vor simti mult mai protejati, iar in timp vor avea o stima de sine mai ridicata.
Pentru copii sau adulti aceasta conexiune este cel mai simplu si profund mod de care au nevoie ca sa se simta iubiti si protejati.
In momentul in care stangem pe cineva in brate parca se creeaza in jurul nostru un zid care reuseste sa ne fereasca de orice stimul negativ si care ne ofera in schimb foarte multa liniste si caldura. Temerile ne sunt cu totul inlaturate iar calmul ia locul agitatiei. Totodata, in randul cuplurilor aceasta interactiune poate imbunatati considerabil relatiile.
Beneficii importante asupra sanatatii
Nu stiu cati dintre voi s-au gandit serios la cat de importante sunt aceste interactiuni pentru sanatate. Sunt foarte multe studii care arata ca imbratisarile reduc tensiunea arteriala.
Datorita lor exista un risc scazut in cazul bolilor de inima iar imunitatea  este mult mai crescuta decat in cazul persoanelor care nu se imbratiseaza.
Este un "medicament" sau un bun tratament atat pentru suflet cat si pentru minte, caci se pare ca stresul dispare ca prin minune atunci cand simtim ca suntem cufundati cu totul in brate celor dragi.
Fara indoiala, imbratisarile sunt cele care au cel mai mare impact asupra durerii, pentru ca suferinta pare a fi redusa atunci cand persoanele dragi ne sunt alaturi si ne inteleg.
Tocmai de aceea cel mai des simtim nevoia unei imbratisari atunci cand avem o problema, suntem tristi sau ni s-au inecat cu totul corabiile.
E nevoie de cel putin 8 imbratisari pe zi
Sa nu pierdem totusi din vedere beneficiile pe care ni le pot oferi astfel de momente si sa ne imbratisam persoanele dragi nu numai atunci cand avem diverse probleme. Sa le oferim persoanelor importante din viata noastra toata iubirea si atentia de care au nevoie.
Pentru ca uneori uitam ca in gesturi asa de mici poate sta ascuns un munte de fericire. Sa ne bucuram de orice prilej sa ne imbratisam mama, prietenii, iubitul, nepotelul, cei mai dragi oameni pentru ca aceste beneficii se transmit ambelor persoane care au parte de o astfel de conexiune.
Specialistul Paul Zak ne indeamna la cea mai frumoasa si sanatoasa urare "E nevoie de cel putin 8 imbratisari pe zi pentru a fi mai fericit si pentru a ne bucura de relatii mai bune".
Cati dintre noi nu ne amintim si acum de o imbratisare atat de plina de iubire si fericire care a reusit sa ne faca sa ne simtim in acel moment cel mai fericit om de pe pamant. Cum ar fi sa ne simtim asa in fiecare zi?
De Ionela Spinu
Foto: Mother and daughter giving each other a cuddle full of love
✖
Mulțumim pentru că vrei să fim prieteni!