Cameron Diaz – Nu ma intereseaza aparentele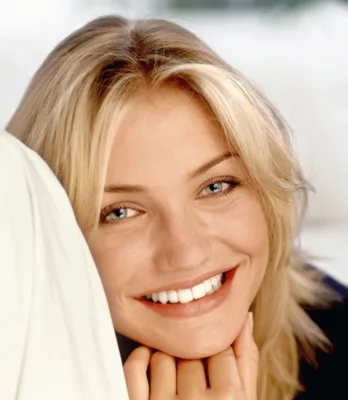 O blonda superba, cu un tonus de zile mari, cu un simt al umorului contagios. Cameron Diaz a trecut de la sex simbol la statut de sex symbol cu creier, farmec si talent. Un upgrade serios in cariera dar nu atat de rapid in viata personala. Vrea sa infieze un copil, daca nu gaseste un tata demn sa faca un copil, se amuza pe tema fricii proprii de graviditate si detesta mofturile modei.
Se naste pe 30 august 1972, in San Diego, California.
Acum este poreclita Cami, iar in copilarie era strigata Skeletor (de vina fiind inaltimea).
Mama sa are origini engleze, germane si nativ americane, iar tatal cubaneze.
Pe 22 iunie 2009 a primit steaua cu numarul 2,386 pe Hollywood Walk of Fame.
Are reputatia unei persoane lipsite de punctualitate.
In tinerete a fost model, ani de zile a fost cuplata cu Justin Timberlake… Se pare ca e o femeie pentru care niciun tabu legat de varsta ori de vreun scenariu de viata prea convetional nu functioneaza. Barbati mai tineri, sport din plin, viata de noapte, supercelebritate si faima de a intarzia oriunde merge. Si-a spart nasul de patru ori si abia atunci s-a dus la medicul plastician. Simpatica, nu? The sky is the limit pentru Cameron Diaz.
Psychologies: In cel mai recent film, ati jucat o nastere foarte credibila. Nu va sperie insa cand vine vorba de viata reala?
Cameron Diaz: Sora mea a nascut trei copii, doi natural si unul prin cezariana. Am vazut toate nasterile si nu m-e frica. Simt doar bucurie si neliniste atunci cand vad un copil venind pe lume. Mai interesant a fost ca, atunci cand au adus in camera un copil adevarat, toate actritele am fost terminate dupa el. Era o fetita de 14 zile si ne-a coplesit pe toti cu dragalasenia ei.
Va face sa va doriti un copil?
C.D.: Iubesc copiii si am o multime de copii in viata. De 15 ani sunt matusa cu norma intreaga, am experienta considerabila cu cei mici. Cred ca da, sunt pregatita pentru aceasta parte a vietii, sa am familia mea si, chiar daca va fi sa adopt un copil sau sa-l fac eu – daca voi gasi un tata sau nu – sunt deschisa sa ofer multa iubire. Vreau sa ofer iubire. Ce va fi, va fi.
Ati face acest pas de una singura?
C.D.: Nu cred ca ma gandesc prea mult la asta si nu pot raspunde la intrebare. Daca ajung acolo, va fi pentru ca a fost alegerea mea, nu stiu cum ajung acolo. Nu stiu unde ma va duce viata.
Ce regim de viata aveti de va mentineti atat de frumoasa?
C.D.: Ma antrenez zilnic, fac surf… Cand nu lucrez, fac sport, constant – asta e viata mea. Imi place sportul. Imi place sa ridic greutati, am muschii dezvoltati si recomand acest tip de exercitii femeilor de peste 40 de ani. Asta le va ajuta sa ramana in forma mai mult timp, pentru ca, dupa o anumita perioada, muschii nu se mai dezvolta si este bine sa ii aiba deja antrenati. Nici oasele nu se mai reconstruiesc si ai nevoie de un schelet puternic. Ca sa nu pierzi masa osoasa si sa poti face si la 60 de ani ceea ce faceai la 40.
Va felicit pentru bratele musculoase…
C.D.: Da, sunt naturale! Cred ca este important sa avem grija de noi. Vreau sa fac si la 60 de ani ceea ce pot face la 40. Vreau sa ma antrenez mereu, sa fiu puternica, vreau sa dansez. Toate astea iti schimba corpul, si o fac inspre bine.
Aveti o atitudine destul de sanatoasa cu privire la varsta si la trecerea anilor. Lectii de la cineva anume?
C.D.: Pur si simplu, de la viata. Si de la femei minunate pe care le-am intalnit. Si care ar fi alternativa? Sa ma plang toata ziua de dureri de sale? Nu e stilul meu.
Ce film cu dvs. in planul pe 2013?
C.D.: Gambit. Vine in ianuarie. Dar nu pot spune multe.
Credeti ca intr-un cuplu cineva domina necesarmente?
C.D.: Cred ca relatiile cele mai bune sunt cele in care cei doi sunt parteneri, egali. Am avut o multime de relatii in care am invatat ce vreau si ce nu vreau de la celalalt. Si stiu ca nu vreau sa fac compromisuri. Dar uneori compromisul e folositor, ca sa te invete ceva. Vreau sa fiu provocata, stimulata intelectual. Uneori, da, te simti dominatorul, Alfa, apoi il lasi pe celalalt sa fie in prim plan. Cred ca personalitatea Alpha e a celui care vrea sa fie in prim plan tot timpul, sa domine, dar eu am nevoie de parteneriat, de relatie. Cel mai bine te simti atunci cand stii ca celalalt te-a cautat, ca depune eforturi ca sa-ti fie bine. Asta linisteste. Apoi, e bine sa stii ca celalalt a intreprins o munca de cautare a sinelui, ca stie ce vrea, ca nu esti un capriciu. Daca gasesti pe cineva in care sa ai incredere, daca ia decizii care si tie ti se par bune, atunci cred ca esti pe calea cea buna. Am prieteni care au relatii de cuplu exceptionale.
Sunteti considerata, in continuare, o femeie foarte eleganta. Va mai provoaca acest lucru ca acum cativa ani?
C.D.: Stiti, ca orice altceva in viata, acest atribut isi pierde din intensitate sau din importanta. Slujba mea are destul de-a face cu imbracamintea si cu aparenta, dar uneori te saturi. Pentru mine e doar o parte a meseriei mele, nu ma mai preocupa aproape deloc. Nu ma intereseaza aparentele.
Adica nu mai probati haine peste haine.
C.D.: Da, nu mai incerc sa gasesc cea mai buna varianta de tinuta, sa pierd ore in sir cu asta. Cat despre film, daca se aplica personajului, fie. Da, pentru un actor in continuare tinute este esentiala, avem mult de lucru cand compunem garderoba unui personaj. Dar trasul pe tine al pantalonilor, dezbracarea… of, m-am saturat de asa ceva! Nu e simplu deloc. Pe tocuri, sus, jos de pe tocuri…
Ati militat recent la o conferinta de presa pentru alaptarea naturala. Vreun motiv special pentru acest lucru?
C.D.: Doar ca am fost in Africa de curand si am intalnit oameni extraordinari din tribul Massai. Dar stilul lor de viata, foarte natural, m-a facut sa ma gandesc ca Natura are scopurile ei, si ca sunt intelepte. Daca i-a dat unei femei sani frumosi pentru a hrani copiii, atunci asta e! E bine sa nu departam prea mult de Mama Natura.
Ati vorbit despre adoptarea unui copil. Va ganditi serios la asa ceva?
C.D.: Inainte de aface comedia cu Jennifer Lopez, What to expect when you're expecting, nu m-am gandit deloc la acest lucru. Voiam sa am copilul meu, si cu asta basta. Dar, dupa film si dupa ce am tinut in brate doi bebelusi etiopieni fermecatori, mi-am schimbat perspectiva. Putem iubi un copil care nu are nimic pe lume.
Va este frica sa ramaneti insarcinata?
C.D.: Dintotdeauna mi-a fost. Am fost martora la nasterile surorii mele, era sange peste tot. Mi se pare infiorator ce se intampla in timpul unei nasteri naturale. Niciun barbat nu ar trebui sa fie martor la asa ceva.
Creierul se micsoreaza cand femeia e gravida…
C.D.: Atunci nu trebuie sa am copii, pentru ca nu am multa masa cerebrala de pierdut…
Fiind o femeie cu experienta, ce credeti despre iubire?
C.D.: Prefer sa mi se franga inima de o mie de ori, decat sa nu iubesc deloc. Oh, Doamne, nici nu cred ca pot sa numar de cate ori m-am urcat in avion in numele iubirii. In meseria mea, se practica destul de des astfel de lucruri, stilul meu de viata o cere. Intotdeauna calatoresc acolo unde se afla iubitul meu. Pur si simplu, trebuie sa fac asta.
Sunteti, deci, o fire pasionala?
C.D.: Da, da. Am o componenta animalica… Ia-ma in brate, pune-ma pe umar si pleaca cu mine. Tu barbat, eu femeie. (rade) Iubesc contactul fizic, trebuie mereu sa imi ating iubitul, sa ma joc cu el.
Exista un portret robot al barbatului ideal?
C.D.: Nu as spune chiar asa, dar, fata de acum zece ani, imi doresc un barbat care stie cine este si ce vrea. Care, se intelege pe sine, si-a rezolvat problemele, si-a inteles greselile, si le-a asumat si nu doreste sa le mai repete vreodata. Eu cred ca barbatii sunt minunati. Mi se par foarte interesante diferentele dintre sexe si este in interesul tuturor sa incercam sa intelegem mai bine natura feminina si masculina.
Va bucurati mai mult acum decat la 20 de ani?
C.D.: Nu mai am 20 de ani si nici nu imi doresc asta. De fapt, nici la 30 nu m-as intoarce. Am bifat perioadele respective, am muncit mult pentru a evolua, mai ales spiritual, iar ideea de a merge inainte, indiferent de ce rezerva viitorul, ma incanta si ma stimuleaza.
Multi oameni nu va cred ca aveti radacini latine
C.D.: Mi se intampla atat de des! Nu am crescut intr-o comunitate cubaneza ori latina, ci in sudul Californiei, pe plaja. Am descendenta cubaneza, sunt a treia generatie aici, dar sunt mult prea blonda si cu ochi albastri, asa ca imi maschez perfect radacinile.
✖
Mulțumim pentru că vrei să fim prieteni!