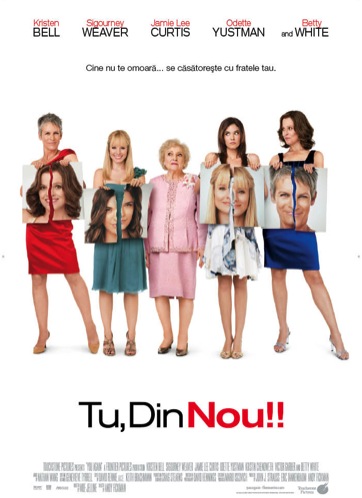 Distributie:
Regie: Andy Fickman Producatori: John J. Strauss si Eric Tannenbaum Distributie: Kristen Bell, Jamie Lee Curtis, Sigourney Weaver, Odette Yustman si Betty White, Victor Garber si Patrick Duffy
Produsa de Touchstone Pictures, Tu, din nou!!, spumoasa comedie cu Kristen Bell, Jamie Lee Curtis, Sigourney Weaver, Odette Yustman si Betty White in rolurile principale, va debuta in cinematografele din Romania in data de 19 noiembrie.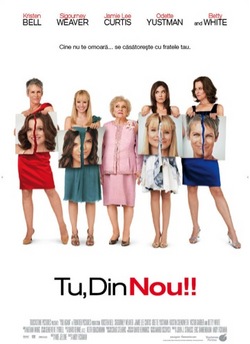 Scenariul filmului, semnat Moe Jelline, este inspirat chiar de o experienta din viata personala. Marni, o tanara cu o cariera promitatoare si in ascensiune in domeniul PR (Kristen Bell), revine in orasul natal pentru nunta fratelui sau mai mare (Jimmy Wolk). In scurt timp, ea descopera ca viitoarea cumnata este de fapt cea mai mare rivala a ei din liceu (interpretata de Odette Yustman), dar care acum se preface ca a uitat trecutul lor plin de conflicte. Intriga se complica atunci cand se descopera o rivalitate ce dateaza tot din vremea liceului intre stralucitoarea matusa a miresei (Sigourney Weaver) si "casnica" mama a mirelui (Jamie Lee Curtis). In final, lumea renunta la politeturi si vechile conflicte se reaprind in acesta comedie inedita care iti arata exact ce se intampla cand esti obligat sa te reintalnesti cu persoane pe care ai fi preferat mai degraba sa le uiti sau sa nu le mai revezi curand.
Din echipa care a realizat savuroasa comedie fac parte cativa dintre veteranii comediilor de la Hollywood: regizorul Andy Fickman al carui film precedent "Race to the Witch Mountain" a intrat in martie 2009 direct pe primul loc la box-office, producatorul John J. Strauss care a scris celebra comedie "Something about Mary" si producatorul Eric Tannenbaum care este si producator-executiv la sitcomul "Two and a Half Men".
Kristen Bell, actrita principala, este cunoscuta publicului american din seriale TV precum Veronica Mars sau Heros. Kristen este o actrita in plina ascensiune la Hollywood, anul acesta ea aparand in nu mai putin de alte 2 productii de succes "When in Rome" si "Get him to the Greek".
Jamie Lee Curtis a mostenit talentul actoricesc din familie, iar prima sa pelicula de succes a fost de fapt un horror, "Halloween", in 1978. Partenera sa de film, Sigourney Weaver si-a castigat celebritatea tot in urma unui film de factura SF-horror, "Alien".
 
✖
Mulțumim pentru că vrei să fim prieteni!