Prietena mea cea mai buna, terapeutul meu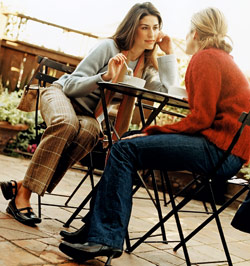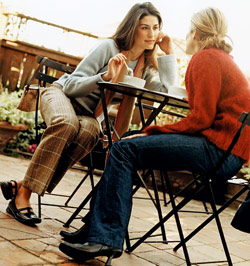 Ii impartasim problemele si secretele noastre, ii destainuim cele mai ascunse ganduri. Confesiunile in fata celei mai bune prietene seamana uneori cu discutiile avute cu un psihoterapeut.
O cititoare ne povesteste: "De cate ori am o problema serioasa, de familie, de cuplu, mi se pare firesc sa imi sun cea mai buna prietena si sa ii cer sfatul. Uneori, doar o rog sa ma asculte. E suficient, simt ca mi-am luat o povara de pe suflet. Acest lucru il irita extrem de tare pe Robert, partenerul meu. Considera ca ii lezez intimitatea, ca problemele noastre nu trebuie sa fie puse pe tapet in fata nimanui.
Pe de alta parte, eu nu inteleg cum poate tine in el supararea sau tensiunea, cum nu simte nevoia sa vorbeasca cu amicul lui de-o viata despre necazurile lui. Nu m-as simti jignita, dimpotriva, as considera ca il preocupa cu adevarat dorinta de a rezolva ceva." Este un punct de vedere asupra caruia Elena, 34 de ani, medic stomatolog, nu a cazut niciodata de acord cu sotul. Dar povestea nu este singulara. Confesiunile dintre femei sunt binecunoscute.
Cine nu se poate lauda cu cel putin o noapte in adolescenta in care a simtit ca "s-a spus totul" alaturi de prietene, in fata unor farfurii de prajituri care au ramas aproape neatinse de la atata vorba? Cine nu isi aminteste, mai tarziu, de sfaturile discrete si binevenite intr-un moment delicat de criza, in fata unei cafele devenite reci? Prietena cea mai buna ne este alaturi si ne stie toate secretele. Ne mandrim cu acest lucru, nu ne este rusine si avem incredere sa ii impartasim totul. Ne este aproape in certurile cu parintii, in dezamagirile din dragoste, in relatiile cu copiii…
Dar de ce barbatii nu simt acelasi tip de conexiune cand vine vorba de amicitie? Mai discreti, mai retrasi, acestia par sa inteleaga altfel importanta unei relatii foarte apropiate de acest fel. Despre valoarea terapeutica a prieteniei, cu detalii despre semnificatia relatiei de tip confesiune dintre femei, in randurile urmatoare.
Descopera-te, valorizeaza-te, defineste-te
Ce anume gasesc femeile atat de important in confesiunile facute una alteia? Dr. Razvan Gogalniceanu, psihoterapeut adlerian, vorbeste despre importanta relatiei de prietenie atunci cand alegem sa discutam despre problemele noastre. "Alfred Adler descrie patru nevoi ale fiintei umane: nevoia de a apartine, nevoia de a ne imbunatati (de a deveni mai buni, noi fata de noi insine ori fata de ceilalti), nevoia de a fi semnificativi (de a simti ca suntem importanti pentru cei din jur), nevoia de incurajare. Pentru toate acestea, noua, oamenilor, ne sunt necesari si indispensabili semenii.
Adler vorbeste de trei sarcini ale vietii: munca, socialul si relatia intima. Fiecare dintre noi cauta sa functioneze cat poate de bine in acest sens. Modalitatea in care functionam este foarte personala; la fel, gradul de implinire si felul in care ne consideram satisfacuti.
Prietenia reprezinta ideea adleriana de social. In prietenie cautam validarea ideilor proprii, intelegere si acceptare, dar, in acelasi timp, dorim sa ne verificam pu­terile si sa ne punem la treaba propriile principii. Cateodata ne vine usor sa apelam la un prieten pentru a ne verifica o idee, un comportament sau pentru a primi sprijin si sustinere intr-o situatie prin care trecem, intalnirile terapeutice parand mai putin la indemana."
Dar in ce masura poate fi intima amicitia dintre femei (in general, nu sunt mai mult de doua sau trei intr-o relatie atat de stransa, contrar mitului din Sex and the City…)?
"In terapie, oamenii vor regasi suport si sustinere, dar si altceva. Intalnirea cu un om care nu ne cunoaste si care, prin natura pregatirii sale, este concentrat pe nevoile noastre, este atent si empatic, ofera ocazia sa intelegem mai bine cum se face ca in anumite situatii un anumit comportament ne aduce apreciere si valorizare, iar in alte situatii aceeasi regula proprie ne duce in situatii limita. Care pot fi scopurile si principiile logicii private ale unei persoane care traieste o astfel de situatie?
Acestea pot fi deslusite numai in atmosfera terapeutica. Psihoterapia adleriana cauta sa dea o mana de ajutor omului tocmai pentru a se lumina in privinta situatiilor in care alegerile sale par a fi inutile, neconstructive. Astfel, omul poate cauta noima constructiva si utila a drumului pe care si l-a ales. Destainuirea in cadrul unei relatii prietenesti are valente comune cu ceea ce se petrece intr-o intalnire psihoterapeutica sau cu cea din cadrul unei intalniri… duhovnicesti." Asadar, iata cateva tipuri de "intalniri" semnificative, care dau sens directiei noastre interioare, caii pe care o luam la un moment dat… Dar care este totusi elementul care face ca aceste relatii sa fie speciale, fiecare in felul ei?
"Diferentierea intr-un final, insa, se face prin scopul pe care il urmareste cel care se confeseaza si nevoia pe care acesta o are de implinit: apartenenta, acceptare, importanta de sine, sprijin, sustinere", spune psihologul adlerian. "Nu putem generaliza ca cineva poate avea acces la clarificarea logicii sale private si la indreptare numai si numai in relatia cu un terapeut. Asta se poate intampla uneori si in relationarea cu prieteni sau cu un duhovnic.
Cand prietenii ni se confeseaza, privim experientele povestite noua prin prisma propriilor noastre principii de viata. Cateodata nici nu apuca sa deschida gura prietena sau prietenul care ni se destainuieste, ca stim deja cam cum sta treaba. Mai departe, povestea lui sau a ei intra mai degraba pe fagasul pe care i-l dam noi, ascultatorii.
Dorinta mea este de a preciza doar ca schimbarea reala va aparea numai atunci cand omul este decis sa o faca, iar pentru asta, de multe ori, este nevoie sa nu judecam, sa sutinem, sa empatizam, sa fim obiectivi. In psihoterapie ai acces la toate acestea in acelasi timp. In plus, ritmul fiecaruia este respectat."
✖
Mulțumim pentru că vrei să fim prieteni!