Sharon Stone: Nu port nimic decat atitudine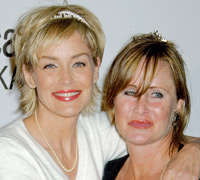 A devenit celebra pentru o scena scandaloasa. Apoi s-a batut moneda cum ca are un IQ mult peste medie. A tacut o vreme, a trecut prin diverse mariaje, a esuat, a suferit un atac cerebral, iar acum isi creste singura cei trei fii. Ce crede Sharon Stone despre viata, materni­ta­te si filme la ai sai 50 de ani impliniti?
La inceput, a fost o fata cu picioare lungi si parul blond. Se intampla in 1991, la Festivalul American de Film din Deauville, Franta, cand era doar o actrita necunoscuta in filmul lui John Frankenheimer, "Year of the Gun". A muncit din greu, la inceput in filme de serie B, in timp ce mai avea inca prezentari de moda si chiar si o sedinta foto pentru "Playboy". Asta pana in 1991, cand rolul scriitoarei de romane politiste Catherine Tramell a adus-o in culmea gloriei. Ea face ca totul sa para usor, dar e limpede ca a muncit foarte mult pentru celebritatea si averea ei. Le merita din plin, desi pretul cu care le-a pla­tit a fost faptul ca imaginea de diva i-a umbrit cariera de actrita serioasa. "Basic Instinct", un film care avea sa depaseasca orice limita cinematografica, nu numai da­torita secventei in care isi in­cru­ciseaza picioarele si scenelor de sex alaturi de Michael Douglas, a devenit istorie. Sharon Stone a im­pli­nit de curand 50 de ani. S-a nas­cut pe 5 martie 1958. Are trei copii adoptati, a trecut prin cateva di­vor­turi, a avut par­te de o publicita­te extenuanta si a fost foar­te a­proa­pe de moarte. Este o femeie cu mul­ta experienta, care stie ca totul a fost, de fapt, o calatorie interesanta, in timpul careia a descoperit multe lucruri.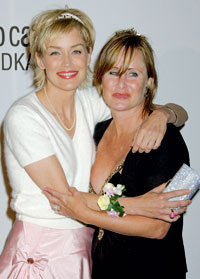 Psychologies: Cum va simtiti la 50 de ani?
Sharon Stone: Varsta a doua este cea la care constientizezi multe lucruri. E nevoie sa-ti faci timp si pentru tine. In anii '90 am stat departe de platourile de filmare timp de 15 luni, pentru ca avusesem prea multe experiente care m-au fa­­cut sa simt ca am nevoie de o "de­parazitare". Cred ca stiu ce vreau, astazi. Cred… La 40 de ani traiesti in stilul tau. A trebuit sa ma opresc un timp, sa-mi ofer astfel sansa de a lua decizii mai bune. Asta mi-a cam frant inima, pentru ca ma aflam intr-un moment in ca­re simteam ca nu iau cele mai efici­en­te hotarari si nu ma aflam in preaj­ma unor oameni care sa ma iu­beasca cu adevarat. Traisem mult prea mult cu astfel de persoa­ne, care aveau de castigat daca ma aprobau tot timpul. Si asta e foarte, foarte periculos, mai ales cand ai impresia ca ei chiar te iubesc. Si tu ii iubesti, la randul tau. Apoi, la un moment dat, constati ca esti sursa lor de castig foarte usor. Presupun ca munca devenise sanctuarul meu. Am ajuns celebra atat de repe­de, incat nu am cunoscut, efectiv, progresul.
Celebritatea se datoreaza imaginii dvs. de "bomba sexy"?
Nu. Sper ca nu! Nu cred ca pe ma­rile ecrane este chiar atat de mult sex; de fapt, ce inseamna "prea mult sex" pentru un film care are nevoie de astfel de momente? Dar, mai ales, pentru ca aceasta productie a devenit unul din­tre hiturile nebunesti care nu imbatranesc niciodata.

Sunteti o luptatoare, v-ati judecat si cu producatorii filmu­lui "Basic Instinct". De ce?
Ca sa primesc ce mi se cuvine. Cand o femeie isi apara drepturile, ea este numita in toate felurile posibile. Cand un barbat face acelasi lucru, despre el se spune ca este "un barbat informat, care stie ce i se cuvine". As mai fi putut con­­­­tinua in acest fel, dar as fi ramas tot o debutanta. Nu neg trecerea anilor, dar incerc sa ma men­tin activa si in forma. Totusi, nu voi lua ma­suri disperate, ca liftingul facial sau operatii estetice. Cred cu ardoare ca trebuie sa lasam natura sa-si urme­ze cursul firesc si sa tra­im asa cum am fost lasati.
Aveti o proble­ma cu nuditatea in filmele dvs?
Nu am nicio problema cu nuditatea, nu e adevarat! "Aproape ca tre­buie sa o platesti ca sa-si tina hai­­nele pe ea", spunea despre mine re­gizorul "Basic Instinct". (rade) Imi place sa ofer, dar sa si cer ina­poi. Sa spunem doar ca nu sunt ge­nul de om care sa se simta con­strans de regulile sociale, de orice gen ar fi ele. Imi cunosc cumva in­stin­ctele primare. As vrea ca si ceilalti sa si le descopere pe ale lor. Nu am ni­mic de purtat decat atitudi­ne.

Sunteti feminista?
Parintii mei m-au invatat valorile fe­ministe. Nu s-a pus niciodata pro­blema ca nu voi reusi in viata pentru ca sunt femeie. Nu exista o a­semenea conceptie in familia noas­­tra. Am mers la universitate inca de cand aveam 15 ani, dar am re­­nun­tat cand m-am apucat de mo­deling, pentru a castiga un ban. Pentru ca de si ne iubeam unii pe altii, prea bo­gati nu am fost niciodata. Daca vreti sa stiti ce am facut inainte sa devin asa de celebra, am plecat de acasa si m-am mutat in casa unei matusi, undeva pe langa New York. In cateva zile, m-am inscris la Ford Agency si am devenit model in New York si Europa. Am inceput sa iau lectii de actorie, ca sa am un back-up atunci cand isi vor da seama ca nu am nicio treaba cu modelingul. Pentru ca avea sa vina si vremea aia…
Foto: Guliver
Citeste continuarea in revista Psychologies editia lunii mai..
✖
Mulțumim pentru că vrei să fim prieteni!